PS4, Xbox One Getting Cool Sci-Fi Game Soon, Says Jesper Kyd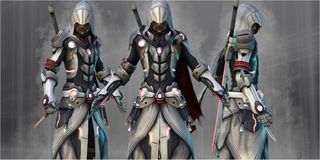 In a recent interview with Jesper Kyd for his work on the upcoming Metal Hurlant Chronicles television series set to debut this April, we managed to get around to some of Kyd's upcoming projects and what he has planned to land on his plate in the near future. One of those projects happens to be a "cool" new science-fiction title planned for release on home consoles.
The Danish composer is best known for his work on games like Assassin's Creed, Hitman, Darksiders and Borderlands. His music is impeccable and renown in many cultural media circles. He also has a penchant for picking projects with high profiles and big budgets. He's a little like the Hans Zimmer of the video game composer ring.
Of course, when Kyd mentions he's working on something, it means you stop, stand up, brush off the dust from your lap and you listen. According to Kyd...
I'm sure many of you are asking "Well why do you assume it's for the PS4 and Xbox One?" and there's a pretty simple answer for it: he mentions "console", which rules out mobile or portable gaming devices (though it's possible the title could be ported to said devices) and companies are about maximizing profit from the new generation of hardware, so it's also possible it could be a cross-platform release much like Titanfall or Watch Dogs, but its prime selling point as a "cool" new title will have to be that it's coming to the PlayStation 4 and/or Xbox One.
Also, any game that's well along enough where Jesper is (or has) already worked on it means it's a likely candidate for announcement at this year's upcoming E3 event. In addition to this, if it's something that hasn't been teased or announced yet, it kind of rules out the latest Assassin's Creed game that Ubisoft ever-so-recently leaked (which could classify as a sci-fi title). Furthermore, given that Kyd hasn't worked on Assassin's Creed since before Assassin's Creed III, I tend to doubt that he would be back... the same could also apply for the upcoming Hitman game, given that Kyd scored all of the games in the series up until Hitman: Absolution.
If I were going out on a limb – also judging by Kyd's style of music – I would probably say it's definitely not attached to a low-end licensed property like High School Musical: In Space - Kinect Edition. Also, high-end LPs like Borderlands 3 is a long ways off, according to Gearbox. Other titles like Prey 2 are likely to stay vaporware (although that doesn't completely rule it out), but a game that hasn't been announced also wipes clean the slate of games that have been announced but are likely to be re-announced. So even then, that still seems to wipe Prey 2 off the list.
Given all the other sci-fi titles coming out and possibly based on other works, from Star Wars to Cyberpunk and Deus Ex, this "cool" new sci-fi title for the home consoles could potentially be anything. I guess we'll actually have to wait and see what it is.
You can check out our full interview with Jesper regarding Metal Hurlant Chronicles and State of Decay right here.
(Main image courtesy of Modern Borefare)
Your Daily Blend of Entertainment News
Staff Writer at CinemaBlend.