Pac-Man Was Scrapped From Super Smash Bros. Brawl, Here's Why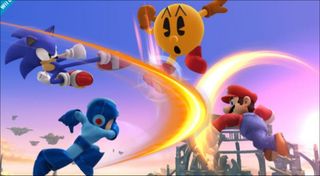 One of the big reveals at this year's E3 was that the legendary icon of video games – dating back to the very first cabinet days of the coin-slot arcade machines – would be making his grand appearance in Super Smash Bros. To be clear, Bandai Namco had confirmed that Pac-Man would be in the upcoming Super Smash Bros. for both the Nintendo 3DS and the Nintendo Wii U. However, this wasn't the first time that Pac-Man was supposed to appear in a Smash Bros. outing.
Kotaku captured a very interesting article from Famitsu Weekly that describes exactly why Pac-Man, as a character, didn't appear in Super Smash Bros. Brawl for the seventh-gen Wii.
According to the article Mr. Nintendo himself, Shigeru Miyamoto, approached Masahiro Sakurai the series creator of Pac-Man and asked if it would be possible to include Pac-Man into Brawl. Here's what Sakurai recalls...
Is that not something or what? "A little too farfetched"? For a Nintendo game? I mean, this is the same company where you play a miniature sized Italian plumber who travels into a magical land and grows big by consuming magical mushrooms and "fire" flowers in order to defeat a giant, princess-starved lizard who lives on a castle that floats on lava. I think "farfetched" is the sort of adjective that doesn't belong in the same sentence when talking about a Nintendo property, because everything Nintendo does is far-fetched.
Well, Sakurai had a lot to consider in regards to bringing Pac-Man to life in Smash Bros, stating that...
Well, Pac-Man eventually did become a prime-time fighter in Capcom's Street Fighter x Tekken, along with many other Bandai Namco characters.
It was Pac-Man's inclusion in SF x Tekken that seemed to work as a catalyst of sorts for his involvement with Super Smash Bros. for Nintendo's latest systems since his fighter model from Capcom's title seems to be the basis for his appearance in Smash Bros.
In regards to Pac-Man making his debut into Nintendo's prime-time fighting series this year, Sakurai simply stated that...
If Solid Snake from Metal Gear Solid could make it into the previous game, it's definitely a lot less odd to see the giant yellow blob from the early days of arcade gaming make a debut in Nintendo's title.
Super Smash Bros for the Nintendo 3DS is due for release on October 3rd and later on in the fall for the Wii U.
Your Daily Blend of Entertainment News
Staff Writer at CinemaBlend.