Super Smash Bros Wii U Pre-Orders Are Now Available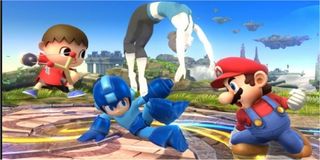 Oh yeah, buddy. It's about to get serious in here. One of the many highly anticipated AAA exclusives coming out this year has just slid down a hallway and kicked opened the door for pre-orders, allowing for any and everyone to start prepping to get in on the action.
GenGame reached out to a GameStop store manager and received confirmation that Super Smash Bros for the Wii U is currently available for pre-order. You don't have to take my word (or GenGame's word) for it, just check it out over on GameStop's official website (opens in new tab).
This marks the second big title of 2014 for the Wii U that's become available for pre-order, well ahead of release. When this originally happened with Mario Kart 8 we saw the title skyrocket to the top of Amazon's best-sellers list and then sell-out rather quickly.
The pre-order campaign for Super Smash Bros follows closely on the heels of Nintendo's announcement, just yesterday, that the game would be receiving additional playable characters in the form of Charizard and Greninja. They also unveiled additional details about the gameplay for both the Wii U and the Nintendo 3DS, confirming a neat four-player dungeon-battle mode for the handheld and a new "For Glory" mode for the home console, primed and ready for tournament play.
The Nintendo Direct also confirmed that this side-scrolling 3D, burly brawler would be scheduled for release this summer on the 3DS and this winter for the Wii U.
While the news about the release of the game coming in the winter for the Wii U definitely peeved off a lot of the core gaming audience still hanging on to the tassels of the Big 'N', everyone should keep in mind that Super Smash Bros will definitely be a better game in the long run with a nice, juicy delay. Also, unlike their competitors, Nintendo games usually launch without any major bugs and without any game-breaking errors. For as much as they receive flak from EA, Nintendo surely outshines them when it comes to releasing quality software products that aren't broken out of the box.
In the meantime, you can still pre-order the game as you wait for the winter 2014 release on the Wii U, or you can pre-order Mario Kart 8 if patience isn't a virtue, and get the game when it drops on May 30th next month. Either way, there are good things ahead in the Nintendo camp and gamers definitely have a good reason to be excited.
Staff Writer at CinemaBlend.
Your Daily Blend of Entertainment News
Thank you for signing up to CinemaBlend. You will receive a verification email shortly.
There was a problem. Please refresh the page and try again.