Pach Attack No Longer At GameTrailers, Pachter Looks For New Home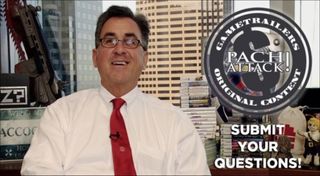 If you've been a fan of GameTrailers' weekly feature called Pach-Attack, you won't for much longer because the series is done for. Why? Because GameTrailers is going through a restructuring phase and many of the staff have been let go along with key content being axed, including Michael Pachter's Pach-Attack episodes.
The news comes courtesy of a Tweet that Pachter made, rolling out the fate of his somewhat long-running weekly series that saw the Wedbush Morgan Securities analyst offering his insight and wisdom regarding various industry-related topics taking place within the video game market. Some of his videos were actually pretty good, and offered gamers some decent insight into how various companies worked or what certain tactics were involving the financial side of the interactive entertainment business, but most times the whole show was about riling up gamers with just a hint of trolling to get fans ranting and discussing Pachter's topic all throughout GameTrailers, as well as off-site at places such as NeoGaf or The Escapist.
Nevertheless, it's all coming to an end, with Pachter tweeting the following...
It's interesting that Pachter would mention joining forces with Geoff Keighley. For as far as the previous reports went, it wasn't made explicitly clear if Keighley, the host of a lot of GTTV's content as well as an executive producer for a lot of game related material that airs on SpikeTV in association with GameTrailers, would be leaving the site as well.
Just after all the major content was turned in from the employees at GameTrailers after this year's E3, the new owners of the site, Defy Media, decided to lay off most of the staff, including Daniel Kayser... one of the most recognized faces of GameTrailers.
The news shocked many within the gaming media and gaming community alike, given that GTTV is easily one of the largest video game-centric websites out there (or at least, they used to be). Sadly a lot of their content had become obsolete in the face of YouTube, given that users could easily and conveniently upload their game-related movies to the Google-owned video service, as well as catch all the latest videos and game trailers directly from there. The only thing GameTrailers could have done was tie the service into YouTube before they became overlapped. Unfortunately, many other users took their place for them, including but not limited to famous names such as RajmanGamingHD or GamingHQMedia.
As it stands, Michael Pachter's Pach-Attack is now another victim of the downsizing and reorganization efforts by Defy Media to recoup a purpose for GameTrailers and eventually turn it profitable.
Many large gaming websites are undergoing the same sort of transitional phase. Polygon recently laid off feature editors, and IGN had to downsize as well. CVG is currently in evaluation after Future Publishing staved off their shutdown to December (great timing), 1UP has shutdown, EGM, Nintendo Power Magazine and even the long-running and highly invaluable video game outlet, GamePro.
As the landscape moves to new wave media, a lot of the original sites are closing up shop and shutting down, including the features that helped gamers identify with them on a personal level, such as Michael Pachter's Pach-Attack. At least he has a new show in the works... assuming he can find someone to pick it up.
Staff Writer at CinemaBlend.
Your Daily Blend of Entertainment News
Thank you for signing up to CinemaBlend. You will receive a verification email shortly.
There was a problem. Please refresh the page and try again.