Payday 2's Big Bank DLC Now Available With Free Game Codes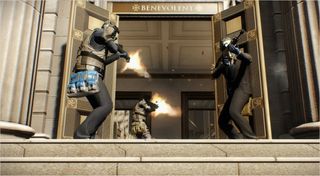 Update: All the game codes have been given away. Thanks to those who participated.
Original article: It seems to be a trend these days to release highly anticipated games and DLC with a nice little smattering of free goodies on the side. That description definitely applies to Overkill Software's latest digital release for Payday 2 called the "Big Bank".
In case the headline didn't give enough of it away, there are free DLC codes being handed out by the publisher to celebrate the release of the new premium DLC for Payday 2. Yes, free game codes. Gaming Blend was lucky enough to be on the receiving end of a handful of codes that we'll be handing out to eager readers on our Facebook page.
Payday 2's newest DLC adds a really awesome big bank stage with randomized variables, multiple entry points, multiple exit strategies and plenty of other goodies in between to keep the replay values high and the cooperative intensity intact.
Hands down, Payday 2 is one of the most feature-rich games on the market today and offers gamers some of the best heist-oriented gaming experiences you'll find in an interactive title. I'm sure we all would have thought that GTA V would have taken home that crown but Rockstar screwed the pooch one too many times to walk away as a champion of the heist genre; that title still amply belongs to Overkill Software.
Recently, Electronic Arts and Visceral Games have been aiming to get in on the heisting meta-game by combining Battlefield with Grand Theft Auto and Payday. However, things haven't gone over very smoothly with Battlefield: Hardline. There have been lots of complaints about the game feeling like nothing more than a poorly done Battlefield 4 mod. My favorite rant on Hardline has got to be from YouTube user Bluedrak42. Just check it out below.
That's oh-so-true of what's happened with the Battlefield series. This was even foreshadowed by DICE, the makers of Battlefield and the highly lauded Frostbite engine, when they warned EA against annual outings of the Battlefield brand lest they dilute the quality of the franchise altogether.
Look, I love the concept of competitive cops and robbers, and I liked what EA wanted to do with Battlefield: Hardline, but I can't argue against a lot of the claims that this game could have just as easily been a mod for Battlefield 4 had EA not killed mod support. Charging $60 for a total conversion has a lot of gamers up in arms.
Alternatively, Overkill is cashing in on the gaming community's grumblings about Battlefield: Hardline. While EA's FPS has some interesting potential, the biggest problem is that all of that potential could be squandered due to the way the company oversaturates the market with their brands and the very poor quality of last year's Battlefield 4, which incurred the company multiple lawsuits.
Why risk the same thing with Hardline when you can grab Payday 2 and the Big Bank DLC and you and your friends can play the brand new map without even having to pay for the DLC? Sounds like a much better option, right?
If you're still not sure about the Payday 2's Big Bank DLC, just check out the promo trailer below.
For $6.99 you can't really go wrong with this if you're looking for a heisting experience similar to the original Payday. Also, you'll only need to pay for the DLC if you want to host the map. You can still join other games for people running the map even if you don't buy it. Good guy Overkill for the win.
You can grab the Big Bank DLC right now on Steam or you can check out Gaming Blend's Facebook page for your chance to get a free copy of the DLC.
Your Daily Blend of Entertainment News
Staff Writer at CinemaBlend.