Pinball FX2 Flips Onto Xbox One This Month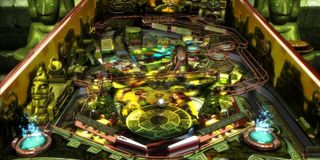 Pinball junkies looking to get their digital fix can finally have that thirst quenched on Xbox One as Zen Studios announces the impending launch of Pinball FX2 on Microsoft's next gen home console.
Benefitting from the ID@Xbox self-publishing program, Zen Studios is bringing their unique tables themed off of existing IP and original concepts to the Xbox One on July 31, meaning pin-heads only have a couple more weeks to wait before diving into a virtual wonderland of silver-ball goodness.
As is the case on other platforms, Pinball FX2 will be made available as a free download to all owners of an Xbox One, with individual tables and table packs available to purchase within the game on a piece meal basis. Almost the entire library of Pinball FX2 games will be available at launch, too, including all of those newfangled Star Wars themed tables, all of the Marvel tables, the Plants vs. Zombies table and loads of their original designs. As for the future, so far we know that Zen is working on a table themed after Telltale's The Walking Dead, which should be added to the mix sometime later this year.
"Pinball FX2 brings all the pinball action for which the franchise is known into the next generation with 1080p graphics at 60 frames per second, worldwide tournaments, new Achievements and a slick new menu interface," reads the official statement from Zen Studios. "Additionally, downloading Pinball FX2 on Xbox One nets you the Sorcerer's Lair table for free."
In other words, anyone gaming on the Xbox One can grab the game, which includes one of my personal favorite tables for exactly zero dollars. From there, you can try out other tables that catch your fancy and buy the ones that sink their hooks in. Tables will be priced between $2.49 and $2.99 a pop and $9.99 for table packs. Each table includes unique layouts, themes, sound effects and more. Being entirely original tables, too, means that a lot of the tables feature objectives, play modes ad animated components that couldn't be pulled off in the real world, making Pinball FX2 a truly unique pinball experience.
"With the release of Pinball FX2 on Xbox One, we have closed the loop and can now offer our fans a complete virtual pinball experience, regardless of their system preference," said VP of Publishing at Zen Studios, Mel Kirk. "We've got a lot of great things planned for the newest generation of consoles when it comes to pinball, so stay tuned for some awesome new stuff from Zen Studios."
Staff Writer for CinemaBlend.
Your Daily Blend of Entertainment News
Thank you for signing up to CinemaBlend. You will receive a verification email shortly.
There was a problem. Please refresh the page and try again.