Pirates Leak Street Fighter X Tekken For Xbox 360 Due To DLC Fiasco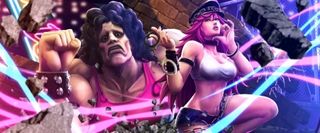 Capcom should have known that pulling YouTube videos of on-disc DLC characters would result in a lot of backlash. To make matters worse is that after news broke about the on-disc DLC characters Capcom planned to sell back to gamers after Street Fighter X Tekken released, a group of pirates decided to leak the entire Xbox 360 version of the game onto torrent sites. Ouch.
To be completely honest, this was one of my most anticipated games of the year. I'm not as much a fan of Street Fighter these days as I am of Tekken (15 years ago it was the other way around). However, a cross-branded Street Fighter X Tekken is kind of a dream game come true for most fighting game fans. I was highly excited about its upcoming release, until I started scouring through the news feeds this weekend and felt a giant knot in my stomach after coming across this Destructoid article. I still had hope that maybe the situation wasn't that bad, that maybe it was like the Mass Effect 3 DLC and someone like BioWare's Casey Hudson from Capcom would have a reasonable explanation. However, this incident turned out to be much worse because not only is it day-one DLC it's on-disc DLC.
Digging a little further revealed that not only were character models, endings and prologue DLC all on the disc that Capcom planned to sell back to gamers in an extensive DLC roll-out for the Xbox 360 and PS3, but all the move-sets and characters were entirely playable using a simple hex editor as detailed on EventHub. Proof of this is shown in a number of videos that Capcom had removed, however we managed to get our hands on this re-uploaded video below of Lei, a supposed DLC character, doing battle in a classic costume with his full move-set on display. Check it out below.
Capcom has been removing many of these videos as evidenced here, and here, which lets you know they're in damage-control-mode, but some people won't let them get off that easy.
While blogs and media sites like this will probably be completely ignored by most gamers and Capcom will have a fair amount of defenders on their side to uphold the practice of selling consumers content they already paid for, the pirates are a lot less forgiving.
A few hours after the story broke and core gamers and most media sites caught wind of the on-disc DLC fiasco for Street Fighter X Tekken, a number of torrents popped up for the game, specifically for the Xbox 360. What's interesting is that only the Xbox 360 version of the game is available to torrent as a 7.4 gigabyte download.
The interesting part about is that one would have to question, would the game still be shared through a number of torrent sites right now had the DLC news not slipped? This also marks the second Xbox 360 game to hit torrent sites in just under two days, the first being Mass Effect 3, which has also been leaked for PC but is unplayable due to a lock from EA's Origin service. Piracy prevention at its finest.
Capcom is expected to respond to the news regarding the leaked information about on-disc DLC for Street Fighter X Tekken, and it will be very interesting to note about how they plan to approach the problem and whether their response will quell a potentially sales-eating spread of piracy for the game on the Xbox 360. I'm also betting GOG's managing director Guillaume Rambourg and Valve's Gabe Newell are shaking their heads in shame at Capcom, given that they've always been about putting consumers first.
Street Fighter X Tekken is set for release this Tuesday on March 6th for home consoles, this May for PC, and later this year for the PS Vita. For more info feel free to visit the Official Website.
Your Daily Blend of Entertainment News
Staff Writer at CinemaBlend.