A New PlayStation Vita Is Coming, According To A Report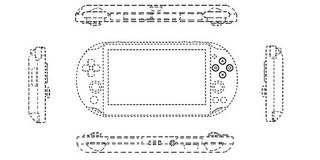 According to a recent post that popped up on a Twitter account dedicated to trademark news, it looks like Sony could be planning to launch a new version of the PlayStation Vita.
Based on what little information we've seen so far, which includes a basic blueprint of the device, it seems most likely that this trademark is an updated version of the current Vita hardware, rather than a straight-up "Vita 2."
IGN was the first to stumble on this news, linking back to the original tweet from @trademark_bot. The tweet calls the not-so-mysterious image a "portable LCD screen game machine controller" that has been trademarked by Sony.
The image appears to be identical to the current Vita hardware, with the addition of a new port on the top of the unit, assumed to be an HDMI out. Everything else, though, seems to be business as usual. The L and R triggers are the same, as are the D-pad, face buttons, joysticks, Home, Select, and Start Buttons. There's still a spot for a front-facing camera, and a camera on the back of the device.
This is especially interesting news, as most folks who don't own a Vita seem to think that the console is already dead. But a steady flow of indie titles, along with occasional big releases, have kept Sony's portable afloat for the past couple of years. It's also worth noting that Sony recently patched the current generation of Vitas to open up 30 percent more memory for games to utilize. That, to me, says that this new piece of hardware could potentially be a bit more powerful than the OG Vita, and this particular patch could have been carried out to make sure that all models, old and new, can play the same games.
Then again, this could all turn out to be nothing more than a patent for a redesign of the Vita that will never hit the market. Until we get the official word from Sony, everything stated above should be considered nothing more than conjecture.
But it's certainly got me thinking: What would I want a new Vita to offer? For starters, I'd like Sony to step back into the first party development ring to help keep the big hits coming and complement all of those great indie games. I like that the Vita isn't huge right now, so the addition of L2 and R2 buttons isn't high on my priority list. However, is it possible for the Vita to play PS3 or at least PS2 games with that extra memory? A fresh dose of catalog titles would help flesh out that library nicely.
Your thoughts, as always, are welcome in the comments section below.
Staff Writer for CinemaBlend.
Your Daily Blend of Entertainment News
Thank you for signing up to CinemaBlend. You will receive a verification email shortly.
There was a problem. Please refresh the page and try again.