The Pokken Tournament Controller Has PC Use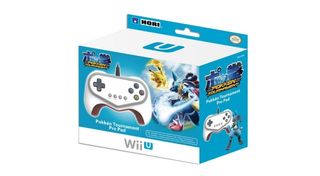 A lot of PC gamers are constantly taking digs at console owners because they're always going on about the versatility and compatibility of PCs. Well, that was proven true once again when it was discovered that the Wii U-exclusive Hori Pokken Tournament Pro Pad isn't exclusive to the Wii U and actually works on PC, too.
Go Nintendo is reporting that the Hori Pokken Tournament Pro Pad, which was announced and launched as an accessory for Bandai Namco's Wii U fighting game Pokken Tournament, only works with Pokken Tournament on the Wii U. No other games appear to recognize or work with the controller, leading to it only being useful if you're a hardcore fighting game fan and you really, really love Pokemon.
The limitations of the controller's use on the Wii U has left a lot of people disappointed no doubt, especially if you had plans on using it for something like Tekken Tag Tournament 2 or other non-analog fighting or beat-'em-up games on Nintendo's little console. However, the article points to the fact that the controller can be read by PCs and used for PC games.
Destructoid went a bit more in depth by explaining that the developer of Space Dave managed to confirm that the Hori Pokken Tournament Pro Pad works good and well with his upcoming title and that the PC had no problems picking up the analog-free gamepad.
While this might sound exciting at first, you have to keep in mind that this controller has very limited use. Two bumpers, four face buttons, two menu buttons and the ZL and ZR buttons resting at the bottom are all the buttons you get. It mostly means that it would be good for things like M.U.G.E.N. or arcade fighting games, but relying on it for anything more than that would be futile.
Destructoid compared it to an old SNES controller and the similarities are definitely there. You can see how the designs are quite similar but with a few extra buttons lobbed on for good measure. As a peripheral purchase for PC gamers – especially those who play a lot of fighting games or platformers Sonic or Mortal Kombat – the Hori Pro Pad isn't that bad of a purchase. You can find it for around $25 at a few places with just a little bit of searching around.
However, you can also get some pretty cool dual-analog gamepads for about $19 from eBay or Amazon. Better yet, if you shop around you might even be able to find a wired Xbox 360 controller for $19, and the only thing better than a 360 pad at that price is a Steam Controller.
This reminds me of the throwback controllers on PC that imitated console controllers... the Gravis PC GamePad. Anyone remember those? At the time they were the best of the best game controllers you could get for PC, and it sure beat that stiff gamepad that came with Capcom's Super Street Fighter II: The New Challengers.
Anyway, if you want to play with the Hori Pokken Tournament Pro Pad on your PC... you can do so. The game selection for the controller is quite limited but there's nothing wrong with having options.
Your Daily Blend of Entertainment News
Staff Writer at CinemaBlend.