Prey For The Gods Looks Like A Shadow Of The Colossus Sequel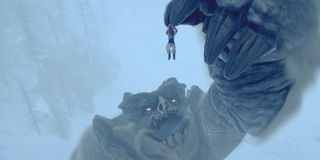 Indie developer No Matter Studios released the first trailer for Prey for the Gods today. The Unity-powered action game looks like it could make fans of PlayStation 2 adventure Shadow of the Colossus very happy.
Like Colossus, Prey for the Gods pits a warrior with a bow and sword against massive creatures. Here's No Matter's short description of Prey's plot:
The way to save the world, apparently, is to kill the gods living in this icy region. The first gameplay trailer for Prey shows players climbing up the back of one of these gods - presumably to strike at one of their weak points. They're not so successful in the attempt, though. The video closes with the creature grabbing our hero and preparing to drop her into his mouth.
There doesn't seem to be a Kickstarter campaign for the game but I wouldn't be surprised to see one. It seems like the kind of project that would do well on a crowdfunding site. I'm sure that there are a lot of gamers willing to fund a game in the spirit of Shadow of the Colossus. It was such a unique experience that, for whatever reason, no one else has tried to emulate until now.
Team Ico, developers of Shadow of the Colossus, are now making Last Guardian for PS4. They're not known for sequels so it's possible that Prey could be the closest we'll get to a new Colossus game.
Image 1 of 6