Razer Forge TV Turns Gaming PC Into Console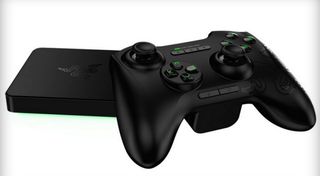 One of the big new trends in the home entertainment space is completely converting the streaming TV experience into a TV gaming experience. A new device from Razer aims to bridge the television watching experience, the home console experience and the PC gaming experience together under their new Forge TV device.
The Verge has a comprehensive article detailing the new Forge TV device that is powered by an Adreno 420 GPU, a 2GB of RAM, and 16GB of storage. The Adreno 420 is based on Qualcomm's Snapdragon 805 SoC technology, which means it supports gameplay graphics that utilize DirectX 11.2.
It's another Android-based device so you can think of it as Ouya on steroids. You can use the device by itself and control the content through the Forge TV app, or you can use the micro-console that comes with the Xbox 360-inspired controller to play games and control the console, or you can get the wireless keyboard and mouse combination.
The order of the day, however, is streaming. The Forge doesn't just stream TV content, you can also stream game content. Powered by Razer's Cortex Stream service, gamers are able to stream content from their PC to the Forge TV, very similar to Nvidia's Shield. The big difference is that Razer's device has a non-partisan relationship with digital distribution services and game software platforms.
Where Nvidia's Shield only streams from Steam, the Forge TV can stream from Steam, Origin, Uplay and even Battle.net.
That's actually a pretty awesome feature. The whole streaming from PC only works well if your PC is up to the task and if your TV is big enough and high-end enough to enjoy the pleasures that PC gaming has to offer. Still, being able to stream games from more than just Steam is pretty neat, because a lot of gamers may have titles that (for one reason or another) aren't available on Steam. This feature is probably also going to be well regarded by a lot of Origin users who also find themselves not able to make use of Steam's in-home streaming but would like to play some of their games from the comfort of their TV anyway.
As for the keyboard and mouse peripheral... it's designed for people who prefer mouse-oriented titles like DotA 2 or League of Legends. It offers a convenient way to play those games without the hassles of using a mouse-to-joystick emulator.
Another feature of the Forge TV is being able to attach your Android phone to the wireless controller. This might be one of the best features of the device, given that mobile phones have some of the worst control schemes imaginable. Their control mechanics are usually limited by the restrictions of touchscreen input. Having an Xbox 360-style controller to use for mobile games just might make the mobile gaming experience slightly better than what it is.
The Forge TV device is available in several pricing tiers. You can get the device all by itself for only $99, or you can get the controller all by itself for $79. The keyboard and mouse peripheral is available for $129. You can also get the controller and base device together for $149. To learn more about the Forge TV, be sure to visit the official website.
Staff Writer at CinemaBlend.
Your Daily Blend of Entertainment News
Thank you for signing up to CinemaBlend. You will receive a verification email shortly.
There was a problem. Please refresh the page and try again.