Real Racing 3 SteelSeries Headset Now Available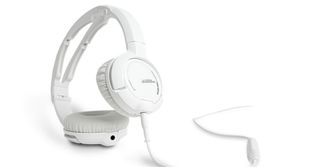 EA always manages to keep themselves in the news, whether it's for better or for worse. The latest bit of news covers their mobile racing title Real Racing 3, as high-end peripheral maker SteelSeries has announced that their latest offerings will be geared toward iOS and Android users.
The new headset is designed specifically for mobile gamers, giving you a complete surround sound quality audio experience while you game on the go.
Tony Lay, General Manager of the EA Firemonkeys studio commented about the new collaboration with SteelSeries, saying...
It's true, EA has really been making big marks with Real Racing 3...except...there was a bit of a snag with the whole free-to-play cash shop.
Gamasutra has a detailed report on how EA was charging people for things like repairing your car. Alternatively, you would to have to wait in real-life time for the car to be repaired. So you either pay to keep playing or go play something else while your car stays in the shop. That's really real, isn't it?
Well, gamers at least got fed up enough to start bombarding the review page with low scores, warning people away from the cash shop scam EA was running with Real Racing 3.
Conveniently enough, EA has announced that all their future games will support microtransactions, so don't think that this incident with Real Racing 3 is an isolated case.
On the upside, at least the SteelSeries Real Racing 3 headset has little or nothing to do with microtransactions. So even if you want a high quality headset for your mobile device to enjoy something other than what EA churns out, well, you're free to do so.
You can grab a pair of the Real Racing 3, all white gaming headset for only $99.99. For more information be sure to visit the Official Website.
Staff Writer at CinemaBlend.
Your Daily Blend of Entertainment News
Thank you for signing up to CinemaBlend. You will receive a verification email shortly.
There was a problem. Please refresh the page and try again.