Red Dead Redemption Sequel Hiring Underway?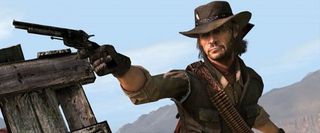 Rockstar San Diego, the studio responsible for the Red Dead and Midnight Club games, is staffing up for a new project. They've put out a call for help on an unknown open-world game.
"Prospective candidates need to the ready for the challenges posed by large scale open worlds with complex AI and physics," reads the wanted ad for a Gameplay Programmer. One of the requirements for the position is "console development experience."
Red Dead Redemption, sequel to Red Dead Revolver was released in May 2010. The game received glowing reviews, leading to a Metacritic rating of 95 on both the PS3 and Xbox 360. The Red Dead series has now sold over 13 million copies, mostly from Redemption.
Considering the smashing success of Redemption, Rockstar would be nuts not to make a sequel. Grand Theft Auto is a beast but it takes awhile for Rockstar North to produce sequels. It's been four years since Grand Theft Auto IV. Red Dead makes for an effective tag team partner, because it's similar enough to GTA to service that series' fans. Rockstar San Diego could make heaps of money by releasing a third Red Dead a year or two after GTA V arrives.
Unfortunately, Rockstar's a bit too busy to talk about a new Red Dead. They've got Max Payne 3 coming this spring and GTA V possibly arriving by the end of the year. Perhaps they'll announce Red Dead 3 (Red Dead Revenge? Red Dead Resurrection?) once those games are in stores, though.
Staff Writer at CinemaBlend.
Your Daily Blend of Entertainment News
Thank you for signing up to CinemaBlend. You will receive a verification email shortly.
There was a problem. Please refresh the page and try again.