Remedy Announces Quantum Break For Xbox One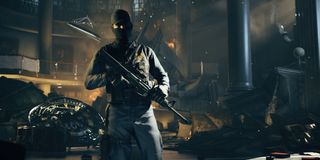 Remedy Entertainment, the creators of Alan Wake and Max Payne, are creating an Xbox One exclusive called Quantum Break. Quantum Break is said to "blur the line between gameplay and television."
The first trailer begins with live-action footage. We're introduced to a girl who can apparently see the future. She can show these visions to other people by touching them.
These visions seem to be the gameplay part of the equation. First, we see a giant container ship crashing through a bridge. Then there's a short glimpse at a man in a bulletproof vest shooting armed guards employed by Monarch Security.
"Time is the fire in which we burn," reads the quote at the end of the trailer.
Alan Wake and Max Payne were both third-person shooters and it looks like this game could be as well. However, the television aspect of Quantum Break is the real wild card. Remedy says that the gameplay and TV will each have a "direct impact" on the other.
Image 1 of 3
Image 2 of 3
Image 3 of 3
Staff Writer at CinemaBlend.
Your Daily Blend of Entertainment News
Thank you for signing up to CinemaBlend. You will receive a verification email shortly.
There was a problem. Please refresh the page and try again.