Resident Evil Dev: Street Fighter X Tekken DLC Is A Scam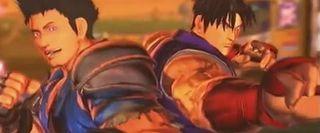 [Update: Hideki Kamiya further clarified his stance on DLC with additional comments right here]
Capcom has had a number of defenders come to their rescue during this whole disc-locked content fallout involving Street Fighter X Tekken. One person who isn't defending the company is the man who worked on Bayonetta, Viewtiful Joe, Okami, Resident Evil and other Capcom games, Hideki Kamiya.
The former employee responded about what he thought about Capcom finishing content and locking more than 30% of characters, colors, customization features, costumes, preset-combos and Gems behind a pay-wall, and he responded with the following response on Twitter, via PSBeyond...
Oddly enough many gaming websites aren't covering this topic regularly for whatever reason and maybe it's because they're enjoying themselves too much with Street Fighter X Tekken? While the game may be a great addition to the niche genre it doesn't detract from the fact that the means in which Capcom plans to make additional money on the game comes from locking out completed and finished content already stored on the game disc.
While the argument is that gamers would never have access to this DLC if it weren't for a separate DLC budget, I would have to countermand that argument by saying that it would make zero sense to include a GEM system and a color customization feature where the majority of all that content never would have made it into the game. That's not only a waste of resources but a waste of time, which admittedly Capcom has said was the reason that advertised features such as cooperative pair-play didn't make it into the Xbox 360 version of the game.
While I'm not a big fan of his, I think Angry Joe has at least done a good job of showing both sides of the argument and detailing why a move like this is both unfair and unsavory for the gaming community at large. To further that argument, one must question exactly how much disc-locked content is okay to be withheld from the game before major gaming websites finally step in to protect the consumers, readers and gamers they supposedly cater their content to?
Following up on heated comments from senior vice president Christian Svensson, who claimed consumers just didn't understand the business of DLC, Capcom has recently issued a detailed layout of how they plan to roll out the disc-locked content and some of the features will be free like the first 12 colors and some additional Gems. Further information on the PS Vita version and the DLC plans will also be announced this April.
Your Daily Blend of Entertainment News
Staff Writer at CinemaBlend.