Rocksmith Teaches You How To Slap-a Da Bass With New DLC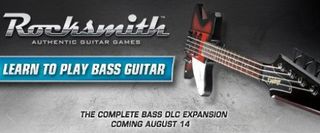 Your one-man band isn't going to go very far if all you can play is lead and rhythm guitar, courtesy of lessons from Rocksmith. Your songs need a pulse; a heartbeat tying the whole thing together. What you need is some good old fashioned bass. Now that you've learned how to scorch on the six-string, Ubisoft has announced a bass expansion for Rocksmith set to release on Aug. 14.
For those who have grown tired of practice instruments and pretending you're playing a real guitar, Ubisoft offers Rocksmith, a game/music instructor that lets you plug any real guitar directly into your console. The game comes with 53 songs on disc and a bunch of DLC, as well as lessons and challenges that teach you how to play the songs on actual guitars.
The experience is about to get a bit more robust as Ubisoft is set to release a bass expansion later this month for $29.99. Once purchased, all Rocksmith songs, including DLC, that feature a bass line will be playable with the newly added instrument. The new content will also allow you to practice skills like two-finger plucking and slapping with dedicated bass technique challenges, tutorial videos and more.
Even cooler is the fact that you don't have to run out and immediately buy a bass guitar to enjoy the new DLC. While playing with a real bass is ideal, Rocksmith allows you to learn and practice the bass content by treating any six-string guitar as a four-string bass.
Now if only they would add some drum content, and maybe a tutorial on the proper use of a cowbell, you'd be set. For more info, check out the Rocksmith official website.
Your Daily Blend of Entertainment News
Staff Writer for CinemaBlend.