Rust Sells 150,000 Copies In Two Weeks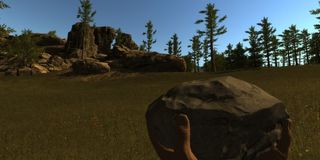 The multiplayer survival game Rust is off to a strong launch. Since being released through Steam Early Access two weeks ago, over 150,000 copies have been sold worldwide.
Rust drops players in the wilderness with a rock and a torch. They must hunt animals and gather resources in order to create more advanced equipment. Players can also create custom structures full of amenities. Starvation, wildlife attacks, radiation and hypothermia are constant threats. There's also the possibility that other players will try to rob you, blow up your home, or kill you.
Garry Newman, founder of Rust developer Facepunch Studios, said that he's shocked at the game's success. Rust's launch sales have dwarfed that of their sandbox physics game Garry's Mod.
"You know what's crazy? I always said that we'll never make a game as popular as Garry's Mod. GMod's success is a fluke – and we'll never be able to recreate anything like the popularity of it," Newman said on Facepunch's blog. "So I think we have all been very very surprised by Rust's popularity. In its first two weeks Garry's Mod sold just over 34,000. That was amazing for me. It changed my life overnight.
"In Rust's first two weeks it has sold just over 150,000 copies. Which on its own is amazing. It's even more amazing for us, because our royalty rate is 30% higher and it costs twice as much as Garry's Mod."
As Newman notes, Rust launched in a much more favorable environment than Garry's Mod did in 2006. Steam now has millions of additional customers. Many gamers have developed a taste for survival and building games thanks to titles like Minecraft and DayZ. Rust no doubt benefited from the popularity of Garry's Mod as well.
Some credit has to be given to the timing of Rust's launch, too. The game arrived right before the Steam Holiday Sale. While Facepunch didn't offer a holiday discount for Rust, it nonetheless benefited from the spike in Steam usage during this period.
Rust was also part of the Yogscast's Dwarven Dairy Drive Humble Bundle (opens in new tab). This $25 compilation of games also include Awesomenauts, Shank 2 and Chivalry: Medieval Warfare among other titles. Nearly 47,000 copies of the bundle were sold.
You can purchase Rust for $20 on Steam. It's an Early Access title, though, so there are still some bugs and missing features. It's at least playable but it's raw. Facepunch admits on Steam that they "haven't totally decided where the game is headed." Purchasing Rust now does entitle you to all future updates to the game, though, including the retail build.
Your Daily Blend of Entertainment News
Staff Writer at CinemaBlend.
Your Daily Blend of Entertainment News
Thank you for signing up to CinemaBlend. You will receive a verification email shortly.
There was a problem. Please refresh the page and try again.