See Lara Croft In A Brand New Light This August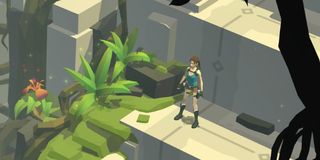 Lara Croft will be coming in all sorts of different forms this year.
Square Enix has announced (via GameSpot) Lara Croft GO will be made available on August 27 for both Android and iOS users.
The mobile Lara Croft adventure was part of the E3 2015 Square Enix press conference, and it's similar in scope to the Hitman GO title released earlier this year as well.
It's a much different beast than that of Rise of the Tomb Raider, with brighter colors, a more simplistic aesthetic, and enough puzzle-solving and exploration to beat the band.
Tomb Raider GO is an exclusively mobile experience that strips the series down to its bare essentials, though it will include the old-school influence from the original game and what makes the saga so addictive to certain players. Many things, including the look of the game and even what you do within, are callbacks to the original game
There aren't a lot of details that were let fly during this year's earlier E3 conference, but the trailer that was released showed off the simplified gameplay, which follows Lara moving across a board, with stylized visuals, some of the familiar pitfalls that can befall Lara as she goes about her exploration, and plenty of recognizable Tomb Raider conventions that fans will love. There's even a dragon of some sort that pokes its head in, quite literally.
There weren't any more details available regarding the game or what can be found within it, nor were there any release dates or platforms announced. But we can bet we'll be seeing more of the game as the year wears on, especially as Lara's latest adventure nears closer to release.
This isn't the first mobile Tomb Raider excursion, however. Lara Croft: Relic Run was released a short time ago and it's every bit as fun as other endless runners on mobile devices. These games aren't just fly-by-night operations, etiher. Some might say they've even outperformed Lara's classic original games in many ways, and I'd be hard-pressed to tell them they're wrong. We can't forget Lara Croft and the Temple of Osiris either, when it made its mobile debut, an excellent entry in the Tomb Raider saga that's every bit a fantastic Tomb Raider adventure as the "proper" sequels.
Lara Croft GO will be releasing in tandem with a special contest that Square Enix will be holding in partnership with the Child's Play Charity as well, so there's another way to get involved if you want to help children. Beginning now through August 21, you can submit artistic creations for a chance to win special prizes. Find out more about that here.
Get ready for Lara Croft GO at the end of the month.
Your Daily Blend of Entertainment News
Thank you for signing up to CinemaBlend. You will receive a verification email shortly.
There was a problem. Please refresh the page and try again.