See Sonic As You've Never Seen Him Before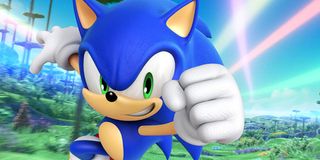 We've seen several iterations of the fastest thing alive, also known as Sonic the Hedgehog, over the years. But seeing an impressive model of the famous mascot rendered in Unreal Engine 4 is still pretty cool.
YouTuber CryZENx (via Kotaku) brings us this tech demo, where Sonic jets through the open world "Kite" environment, letting several of his famous quips fly as he runs through the lush greenery of the field. The "Kite" area is included with the Unreal Engine, which is free of charge to download and get to tinkering with. So technically, you could replace Sonic with just about anything with the tech demo if you've got the time on your hands.
Still, this quick little demo, simple as it is, could be a viable direction for the Sonic series to go in. A quick look back at Sonic's other looks over the years is in order, if you're still skeptical that an open world Sonic adventure of sorts with updated graphics wouldn't be a great idea. Check out how he's evolved since his inception.
Back in the early days, Sonic sported a decidedly less svelte look, though he could still blow away the competition.
When Sonic Adventure hit the Dreamcast, Sonic had "lost weight" and was showing off quite the athletic figure.
Things stayed relatively quiet, albeit for a transformation into a werehog here and there, until Sonic Boom, when the color of Sonic's arms was changed and caused a bit of a kerfuffle.
Of course, staying on the topic of Sonic the Hedgehog and any sort of revival or alteration of the formula reminds us of his glory days. It's always going to be a tricky subject. The previous titles certainly weren't the explosion of nostalgia anyone had been waiting for, and when Sonic Boom hit the scene, fans over the world were still quite disappointed, despite the relative success of the animated companion series.
Perhaps we'll see something more similar to this side of Sonic in the future, but for now fanmade creations are what we'll have to stick with. Hopefully the next Sonic Boom title delivers.
Your Daily Blend of Entertainment News
Thank you for signing up to CinemaBlend. You will receive a verification email shortly.
There was a problem. Please refresh the page and try again.