See The New Star Wars: The Force Awakens Additions To Disney Infinity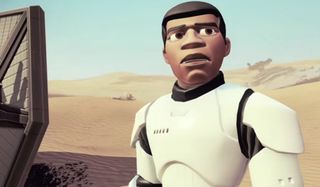 If you're like the rest of the country, you've probably already seen the new addition to the Star Wars series, Star Wars Episode VII: The Force Awakens, in theaters. In celebration of opening weekend for the much-anticipated film, Disney Infinity released their newest additions to the Disney Infinity universe. The new Star Wars characters will be Kylo Ren, Rey, Finn and Poe Dameron. Disney Infinity showed off the characters via Twitter on December 20.
Disney Infinity's Star Wars: The Force Awakens set is technically the first official game to be released that is loosely based on the film. There hasn't been any talk of basing a game entirely on the film, but Justin McCully, GM for the Star Wars franchise at EA, told The Verge about a good reason for that.
The Verge added that, while there won't ever be a game based on Star Wars: The Force Awakens, there will be subtle nods to the series through downloadable content and various add-ons as time goes on. The internet has responded with overwhelming support for the new Disney Infinity Star Wars characters.
And not only are people thrilled about the Disney Infinity Force Awakens announcement, but are all-around ecstatic for Star Wars characters in general. No surprise there.
If you aren't familiar with how Disney Infinity works, it's very similar to Activision's Skylanders. You buy a Disney Infinity Starter Pack, which includes a few notable characters and a base; you put your desired character on the base to insert them into the game where you can play with that character. Disney Infinity's character collection has been growing in numbers since its release in 2013, with more characters constantly being added. With the overwhelming popularity of the new Star Wars film, it's only reasonable that the new Disney Infinity characters are taking off—and they'll probably sell out fast.
Your Daily Blend of Entertainment News
Thank you for signing up to CinemaBlend. You will receive a verification email shortly.
There was a problem. Please refresh the page and try again.