Sega Could Have An Impressive Showing At Tokyo Game Show 2015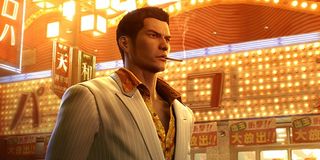 With a handful of upcoming games and a recently teased new title from Director Toshihiro Nagoshi (Yakuza series), it looks like Sega could be gearing up to have an exciting Tokyo Game Show, set to kick off on Sept. 17.
Siliconera is reporting that Yakuza series creator and director Toshihiro Nagoshi recently teased a new title that will be announced at Tokyo Game Show 2015.
Nagoshi made a couple of remarks during a recent NicoNico stream that should give his fans something to be excited about.
[[ br. br ]] "I'm so anxious for Tokyo Game Show," he said during the stream. "Although I'm not allowed to say why I'm feeling this way, yet. We'll announce [a new title] at Tokyo Game Show, and it'll be a good one. And I believe that Sega's live showing at Tokyo Game Show will be the most exciting one we've seen in a while."
So there you have it, folks: Sega is announcing a new Yakuza game for the Dreamcast 2.
Wishful thinking for a new Sega console aside, I'd guess there's actually a pretty good chance that Nagoshi's new game is set in the Yakuza universe. Then again, I'd probably be just as interested to see something totally new from the director and his team.
As for what else Sega might have to offer at next month's Tokyo Game Show, Nagoshi's lips were sealed.
Whatever Sega has coming, it likely Japanese fans will get their hands on it long before us folks in the States. Aside from Phantasy Star Online 2, Sega's been pretty good about getting its games out to other territories, even if it takes quite a while to do so. I'm not still bitter about Phantasy Star, though. Not even a little bit.
As for what we currently have to look forward to, a handful of Total War expansions seem to always be on the horizon while Yakuza Zero is still in the pipeline. Rhythm game fans have Hatsune Miku: Project Mirai DX to tide them over on the 3DS in just a couple of weeks, with the demo for that game actually launching on the Nintendo eShop over the weekend.
The two Sega games likely to cause the most commotion, though, hail from the Persona universe. Persona 4: Dancing All Night is yet another rhythm game, this time set in the popular RPG's universe, while fans of the series are practically climbing up the walls to learn more about upcoming Persona 5. We can probably expect more details about both of those games at Tokyo Game Show, too.
As for what Nagoshi has hidden up his sleeve, we'd love to hear your theories in the comments section below.
Staff Writer for CinemaBlend.
Your Daily Blend of Entertainment News
Thank you for signing up to CinemaBlend. You will receive a verification email shortly.
There was a problem. Please refresh the page and try again.