Senseg Haptic Tech Lets Gamers Feel Tactile Objects Via Touchscreen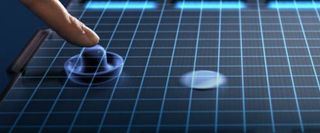 So imagine you're playing a game and you're like "Man, I wonder how that sword would feel in my hands" or you encounter a Moogle in HD and you're thinking, "Is it as soft as it looks?" Well, Senseg Technologies actually has a solution to that answer. Yes...believe it.
Within 24 months Senseg's Haptic Tech will enable designers, developers and software engineers to make use of their tactile touchscreen technology, allowing users to actually feel whatever it is they see on the screen. Heck, that's more high-tech than the high-tech stuff they had in Minority Report.
Ville Makinen, the founder and CTO of Senseg stated that...
Good goodness that is impressive. I'd love to see this sort of technology combined with Euclideon's Unlimited Detail Engine, the possibilities would be absolutely endless. I'd love it even more if a creative design team got hold of the tech, like Rockstar, Team Bondi, BioWare, Nintendo, Bungie or Naughty Dog...again, we're looking at endless possibilities.
The technology is being designed right now for tablets and devices with touchscreen support that enable users to feel tactile sensations through the screen. This means that gamers can actually feel the metal of a gun, or shoppers can find out just what a certain product such as a table or desk would feel like before purchasing it.
According to DisplaySearch, the mobile market will be worth $9 billion alone by 2015 and Senseg wants to move the technology forward to match the mobile market's value. This is opposite of just standing still and allowing designers, developers and UI artists to stay stagnate with creativity within the mobile metaverse.
According to Senseg, the Haptic touchscreen capabilities will become widely evidenced in many touchscreen apps, games and UI properties within the next 12 to 24 months. We'll see if by the end of 2012 a lot of developers are making use of Haptic by then.
In the meantime, you can catch up on the Haptic technology by paying a visit to the Official Senseg Website.
Staff Writer at CinemaBlend.
Your Daily Blend of Entertainment News
Thank you for signing up to CinemaBlend. You will receive a verification email shortly.
There was a problem. Please refresh the page and try again.