Shovel Knight And Assassin's Creed Chronicles Dig Into PSN Weekly Update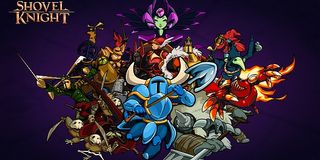 The PlayStation Network will be home to an eclectic mix of games this week, including the indie darling, Shovel Knight, as well as an intriguing side-scrolling spinoff to a popular AAA series called Assassin's Creed Chronicles: China.
It's hard for me to talk about Shovel Knight without diving deep into the realm of hyperbole. A definite contender for my game of the year 2014 nod, this retro-inspired instant classic from the folks at Yacht Club games boasts everything from memorable enemies and terrific level design to tight controls, an imaginative world and a soundtrack that goes toe-to-toe with the industry's best.
I've said it before and I'll say it again: Shovel Knight is especially notable because it apes so much from games that have come before it while managing to improve on a classic formula and stir up genuine nostalgia through brilliant game design. Shovel Knight's inspirations are worn proudly, but that feat is managed in earnest, without ever winking at the camera or falling back on inside jokes or references to previous games.
If you haven't played the game on the 3DS or Wii U yet, you can finally grab it this week as a cross buy title on the PlayStation 4, PlayStaiton 3 and PlayStation Vita. Even better is the fact that this latest version features a godly battle with Kratos as a special treat.
Also arriving this week on the PlayStation 4 is the enigmatic Assassin's Creed Chronicles: China. Little is known about this game save that the traditionally 3D action series will be journeying into the realm of 2D platforming. According to the launch announcement, ACC:C is set in China during 1526. With the Ming dynasty on the decline, Shao Jun returns to her homeland to settle a score. Unfortunately, she's the last remaining member of the Chinese Brotherhood, so the odds are stacked against her.
Another trio of games are also launching on the PS4 this week, including a top-down shooter set in the 1970's, LA Cops, a free-running action game set aboard a dangerous spaceship, Infinity Runner, and the much-loved first-person dungeon diver, Ziggurat.
As for the PlayStation 3 crowd, you can bolster your digital collection of fantastic platforming puzzle games with Oddworld: Abe's Oddysee—New 'N' Tasty this week, which is actually a three-way cross buy title in case you already own it on another platform. This is also great timing, as an Abe's Exoddus remake has also been announced.
Finally, Sayonara UmiharaKawase + will make its way to the Vita this week, an upgraded version of the bizarre cult hit platforming game that features a backpacking sushi chef who must tackle various obstacles and enemies with nothing but her wits and a handy fishing pole.
Look for all of that to join your usual dose of DLC, trailers and the like when the PlayStation Network updates this Tuesday afternoon, April 21.
Staff Writer for CinemaBlend.
Your Daily Blend of Entertainment News
Thank you for signing up to CinemaBlend. You will receive a verification email shortly.
There was a problem. Please refresh the page and try again.