Oddworld: Abe's Exoddus HD Remake On The Way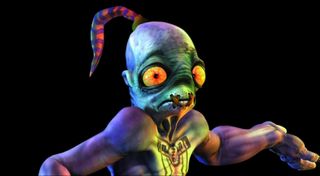 A new Oddworld game is on the way. The co-founder of Oddworld Inhabitants broke the news that the studio is tackling an HD version of Oddworld: Abe's Exoddus.
Over on the official Oddworld website, a news post revealed that the developers – coming off the success of Oddworld: New 'n' Tasty - will be working on a new game.
In a Twitch stream for Kinda Funny, developer Lorne Lanning appears to be rocking a Gary Oldman look during his chat with Greg Miller. But that's where he revealed that the new game is on the way:
Lanning also mentioned that the community is playing a large part in the creation (or recreation) of the popular adventure series. The developer is even going to poll the community for a good subtitle.
Lanning and Miller also discuss why Oddworld Inhabitants hasn't taken the crowd-funding route for its games. Lanning explained that it boils down to the fact that a lot of the money for a new IP has to be burned on research and development, and that's not something Kickstarter backers are very fond of.
They also talk about one of the big drawbacks from Oddworld: Stranger's Wrath, and the studio attempting to try something new with the AI and the game mechanics. It failed more often than it worked. Despite the positive feedback and critical scores, the money invested into the project by Electronic Arts didn't quite see the returns that the publisher wanted.
At this stage in the game, Oddworld Inhabitants has decided to focus on smaller, more practical releases. Hence, Oddworld: New 'n' Tasty and the upcoming remake of Oddworld: Abe's Exoddus.
The team is also still hard at work on New 'n' Tasty for the Wii U, PlayStation Vita, and the PlayStation 3. As mentioned on the official website by the Oddworld staff...
It'll be a while before we hear anything else about Abe's Exoddus as the team works from the ground-up on the remake of the popular title. However, the final roll-out on the Wii U, PS3, and PS Vita editions of Oddworld: New 'n' Tasty should be enough to keep fans of the series occupied until the team is ready to release new info.
Your Daily Blend of Entertainment News
Staff Writer at CinemaBlend.
Your Daily Blend of Entertainment News
Thank you for signing up to CinemaBlend. You will receive a verification email shortly.
There was a problem. Please refresh the page and try again.