Shovel Knight, Castlevania 3 Hit Wii U And 3DS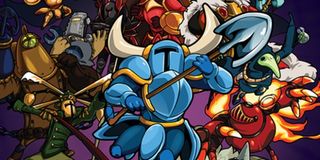 Somebody apparently forgot to tell Nintendo that summer is when new game content tends to dry up, because this week's release schedules for both the Wii U and 3DS are pretty beefy. Sure, there's a lot of stuff here that will only appeal to a niche crowd, but there are a few solid core offerings, too. And did I mention Shovel Knight comes out this week? Because it does. And that's rad.
Fans of classic gaming should be in heaven on Nintendo consoles this week, as both an action platforming classic and a game that pays homage to that entire genre are now available for download on both the Wii U and 3DS.
First up, let's take a look at a blast from the past, Castlevania III. One of the best Metroidvania games out there, Castlevania III continues the Belmont clan's longstanding battle against Dracula and the forces of darkness. This NES classic is now available on the Virtual Console for Nintendo's home and portable devices, meaning players can start cracking the whip whether they're planted firmly in front of the TV or, you know, pretending to pay attention during Geometry class.
And then there's Shovel Knight, easily one of my most anticipated games of 2014. A brand new property from Yacht Club Games, Shovel Knight looks, sounds and plays like an old-school platformer with loads of modern touches that help it stand out all on its own. Unlike many games of this ilk, however, Shovel Knight doesn't boast loads of inside jokes and references to the legendary games that came before it. It's a wholly original product that gets by on its own strengths while simultaneously borrowing from some of the best games the genre has to offer.
The entire lineup for this week's releases can be found below but, before we go, there are a couple of sales to talk about, too. For starters, the Ubisoft Summer Games Sale offers discounts of up to 75 percent off on a variety of titles through July 7. Look for the appropriate tab in the online store to see what games are up for grabs. Nordic Games is also having a sale on various titles through July 8. Finally, you can get Disney's Frozen: Olaf's Quest for 20 bucks through July 31 and enjoy discounts on Code of Princess through July 7 and Urban Trial Freestyle through July 10.
3DS Download
Shovel Knight- $14.99
Hidden Expedition Titanic- $5.99
Toy Stunt Bike- $4.99
Skypeace- $0.99
Plain Video Poker- $1.99
Cocoro: Line Defender- $4.99
3DS Demos
Toy Stunt Bike
Quell Reflect
3DS Virtual Console
Castlevania 3: Dracula's Curse- $4.99
DSiWare
Anne's Doll Studio: Antique Collection- $4.99
Anne's Doll Studio: Princess Collection- $4.99
Anne's Doll Studio: Lolita Collection- $4.99
Anonymous Notes: Chapter 4- From the Abyss- $4.99
Mysterious Stars: The Samurai- $4.99
Wii U
Shovel Knight- $14.99
My Jurassic Farm- $7.99
My Arctic Farm- $7.99
BrickBlast U- $3.99
Monkey Pirates- $4.99
Wii U Virtual Console
Castlevania 3: Dracula's Curse- $4.99
Your Daily Blend of Entertainment News
Staff Writer for CinemaBlend.