SimCity Crack Allows Offline Saves, Bigger Cities, Population Fix [Updated]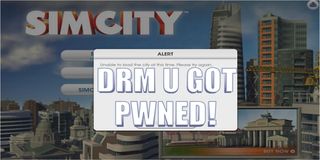 (Update 2: There is still an additional patch available to further extend some of the fixes. A direct link is available right here.)
(Update: The link to the torrent is no longer available and be warned there are multiple scam sites with a fake patch)
Following the public release and information for playing this year's SimCity offline, many gamers complained that offline mode was useless without being able to save the game, which required players to log back into EA's servers in order to save the progress. In the original article it was promised that we would keep the community updated on when a fix would become available for SimCity to enable offline saves and a revamp of a few other big problems with EA and Maxis' recently released SimCity. Well, a new mod is available that does everything you would have hoped for...and then some.
Rock, Paper, Shotgun originally broke the story about an anonymous engineer at Maxis who claimed that Electronic Arts' public statements of an offline mode for SimCity not being possible were not true. This was later followed up by Rock, Paper, Shotgun nabbing an interview with modder AzzerUK, who posted a video on YouTube not only confirming what the anonymous engineer had stated but taking it a step further and proving that you could not only play offline but you could also edit other features of the game to expand the play functions beyond what was shipped in the vanilla game.
If that wasn't enough, AzzerUK then made a forum post on Neogaf and SimCity Hall explaining how to play SimCity in offline mode. This gave the public every reason possible to rebel against the draconian always-on DRM, which was nothing more than a copyright management scheme that was forced upon consumers for no purpose that benefited the end-user.
Quite naturally, many gamers were absolutely livid that EA pull something like that. Worse yet, many of the "big names" in the gaming media didn't even bother reporting on the availability of the offline patch, and instead decided to defend EA's decision for implementing always-on DRM in Twitter fights with people who bought the game. All this did was further prove that top gaming sites are one of the biggest problems in the gaming industry at the moment.
Anyway, this is a huge breakthrough for gamers showing that they're not going to take authoritarian DRM lying down. While we don't condone piracy, you can find the mod for SimCity through this [Link Removed].
This is an unofficial mod, so you'll have to use it at your own risk. EA, of course, does not condone the use of the mod, but if you don't mind giving them a digital middle-finger by accessing content you paid for without having to worry about log-in issues or outages, grab the mod and have fun.
As usual, don't be surprised to see this appear on some other well recognized sites decrying gamers fighting against these kind of DRM measures...it's not like they haven't done it before.
Your Daily Blend of Entertainment News
Staff Writer at CinemaBlend.
Your Daily Blend of Entertainment News
Thank you for signing up to CinemaBlend. You will receive a verification email shortly.
There was a problem. Please refresh the page and try again.