Skyrim Creation Kit Coming Tuesday, Possibly With DLC Announcement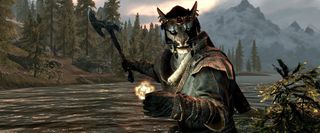 PC gamers won't have to wait much longer for the Skyrim Creation Kit, the toolset that will allow them to make their own Elder Scrolls V: Skyrim mods. Bethesda revealed today that Creation Kit will arrive next week.
"For our Skyrim PC fans, the Creation Kit is on track for release on Tuesday," tweeted Bethesda's Pete Hines. "And, we also have a special surprise with it."
Players will be able to download the Creation Kit through Steam. Valve and Bethesda also teamed up to create a Skyrim Workshop for the toolset. The Workshop, also accessible through Steam, will allow players to easily share, browse, and rate user-created mods.
Though PC gamers will be the only one getting the mod tools next week, PS3 and Xbox 360 owners might not be left out of the fun. Bethesda said earlier this week that the Creation Kit might be released for consoles as well someday. The certification process required for all Xbox 360 and PS3 digital content makes that a tall order, but at least there's some sliver of hope.
And as for that surprise Hine teased, who knows. It's possible that Bethesda will finally announce some DLC details. It's been several months since Skyrim launched so many players are eager for new content. All we know so far is that Bethesda is that the DLC will be "beefy" and the first two packs will be timed exclusives for the Xbox 360.
Staff Writer at CinemaBlend.
Your Daily Blend of Entertainment News
Thank you for signing up to CinemaBlend. You will receive a verification email shortly.
There was a problem. Please refresh the page and try again.