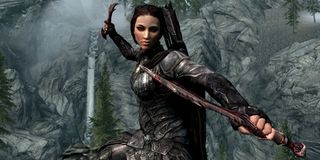 Bethesda isn't making a movie based on Elder Scrolls V: Skyrim. However, everyone's got an idea of how they should do it. One fan shared his vision for a film adaptation today and it's actually much better than you'd expect.
The easy way to pull off a Skyrim movie would be to just use the main storyline from the game. You'd have to make some cuts here and there to tighten it up, but you'd be able to keep the plot mostly intact. A Metro reader has a more radical solution to translate Skyrim into movie form, though.
"Instead of one Dragonborn – how about two? The film would open in much the same way as the game. On a wagon with Ulfric Stormcloak towards execution are two people destined to be Dragonborn. A man and a woman. She would be the heroine, he would later become the villain. And the narrative would follow their choices."
After the two escape from execution, they split up and take very different paths through Skyrim. The villain joins Ulfric's rebellion and the Dark Brotherhood. The hero becomes a member of the Thieves Guild, an Archmage and a Companion. Along with the Empire, she faces the villain and the Stormcloaks in a climactic showdown.
I like the idea of weaving all of the different questlines from Skyrim together into one story. It captures the central Skyrim experience. That being said, this movie would be like ninety hours long. The two different main characters also makes it feel like two separate movies.
"Pete, I bet you have a terrible idea for a Skyrim movie that can fill out the rest of this article," you might be saying. Well, you're right. I've got my own plan for a Skyrim film and I'm going to share a couple scenes with you.
Bethesda, if you want to send me bags of money for the complete screenplay, you know where to find me.
Your Daily Blend of Entertainment News
Staff Writer at CinemaBlend.