Sleeping Dogs: The Next Game Is Called Triad Wars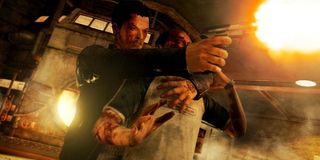 Today United Front Games confirmed that Sleeping Dogs won't be a standalone game. The Vancouver-based studio is currently working on a new game set in the same universe.
"We've been a bit tight-lipped about our current projects over here at UFG, but we're finally able to give you a little something," the studio said on their website. "So, we're making a new game! We can't say a lot about it right now, but you might have read about a trademark registration for something called Triad Wars?"
"Well, we're super-excited that it's another game based in the Sleeping Dogs universe, it's something we've wanted to do for ages, and we're very happy to be working with Square Enix again… but that's all we can give you for the time being – we'll have more information about what the game's going to be in 2014."
Sleeping Dogs, released last year, is an open-world action game set in Hong Kong. Players took on the role of an cop named Wei Shen who has gone undercover in a Triads gang. In order to get into the organization's inner circle, he has to commit a series of crimes. The gameplay is a mixture of shooting, hand-to-hand combat and driving.
While the reviews for Sleeping Dogs were strong, the sales didn't follow suit. The game only sold about 172,000 in its first month. Sales eventually climbed up to 1.75 million by early 2013 but that was below publisher Square Enix's projections. Apparently Square Enix thinks Sleeping Dogs has potential as a franchise, though.
The commercial failings of Sleeping Dogs make me wonder what UFG and SE are going to do differently this time around, though. Will they add multiplayer to the game, or even make it a multiplayer-only experience. When I hear the phrase Triad Wars, I envision two gangs of players facing off. A gang war could just as easily be the central storyline for a single-player-only game but again, I'm not sure Square Enix would greenlight a sequel of the exact same size and shape as its predecessor. It seems more likely that they're going to try and find some way to make the game appealing to a broader audience.
In August, Square Enix's Americas and Europe CEO Phil Rogers pledged that the company would continue to develop core games for consoles and PC. However, they're also going to be pursuing mobile and browser games. I imagine there are a lot of Sleeping Dogs fans praying that Triad Wars isn't a free-to-play smartphone game.
Your Daily Blend of Entertainment News
Staff Writer at CinemaBlend.
Your Daily Blend of Entertainment News
Thank you for signing up to CinemaBlend. You will receive a verification email shortly.
There was a problem. Please refresh the page and try again.