Some Of Street Fighter X Tekken DLC Is Now Available For Free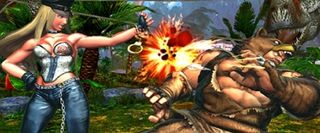 Capcom has extended the olive branch like they said they would and have released tidbits of DLC to assuage angry gamers over the disc-locked content scandal. Today sees 12 free colors, Gems and preset-combos being made available to the general public. In addition to this the first set of costumes have also gone on sale, as Capcom promised they would back in March.
As reported on Gamers Daily News, the first set of alternate costumes, the swap costumes, have become available for the characters at $1 each. Alternatively you can buy the swap pack bundles for Tekken or Capcom characters for $13.00 each.
As detailed on the Capcom-Unity board, the sound issue for online play has also been patched along with the free Tournament Mode update that makes switching in and switching out Gems easy-breezy.
Additional announcements regarding the disc-locked content will be made on April 10th. You've got to love how Capcom is slowly dripping out new content from behind the paywall and gamers are slowly falling for it. It's rather unfortunate given that die-hard fanboys and uninformed casual consumers will buy up the disc-locked content without a whim in the world.
This follows closely on Capcom's response to the Better Business Bureau, where they detail that there's no distinction between downloadable content and disc-locked content. Even though in the latter case it indicates that the content is finished before certification, as Capcom admitted, and is being sold as stripped-off content from the main game. The point and purpose of DLC is as a post-launch expansion only if the game proves to be successful, otherwise it's blatant consumer gouging.
You can access some of the unlocked colors for the color customization feature right now, along with the Gems for free. You'll still need to purchase the swap costumes from the PS Store or Live Marketplace. The additional cosplay costumes, additional colors and other content will be addressed on April 10th. The 12 characters that carry a $20 price tag will be available when the PS Vita version of Street Fighter X Tekken launches later this year. All the DLC characters will be available right out of the box for the PS Vita.
For those still wondering whether the content is 100% complete or not, just check out the hackers playing these guys in online ranked matches.
Your Daily Blend of Entertainment News
Staff Writer at CinemaBlend.
Your Daily Blend of Entertainment News
Thank you for signing up to CinemaBlend. You will receive a verification email shortly.
There was a problem. Please refresh the page and try again.