Sony Ditching DualShock Controllers For PS4?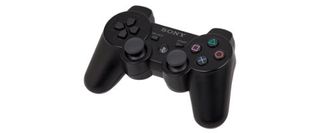 Sony's next console may not use the DualShock controllers seen in previous PlayStation systems. A new report suggests that the company is creating a radically different controller for the PlayStation 4, codenamed Orbis.
The DualShock, featuring rumble technology and dual analog sticks, was created for the PSOne in 1997. Its successor, the DualShock 2, was the standard controller with the PS2. The PlayStation 3's DualShock controller has wireless capabilities as well as Sixaxis motion control.
Sources tell CVG that few prototypes for the PS4 controller resemble the DualShock at all. Some iterations include an LCD touchscreen as well as biometric sensors for the grips. The PS4 controller will "emulate the same user interface philosophies as the PS Vita" according to one of their sources.
Part of the reason for the redesign may have been the lawsuit between Sony and Immersion. Immersion sued Sony for infringing on its rumble technology with the DualShock controller. This lawsuit is presumably the reason why the first controllers for the PS3, the Sixaxis Wireless gamepads, didn't have any rumble function. Sony was forced to pay over $150 million in damages. They now have a licensing agreement with Immersion that lasts through 2017, but maybe they feel that a DualShock controller is now more trouble than it's worth.
Though the DualShock might not be the standard controller for the PS4, it may still play a role in next-generation gaming. The DualShock 3, along with other PS3 controllers, could be compatible with the new console. However, the fact that it doesn't have a touchscreen or any other new-fangled technology might limit its usefulness somewhat. Maybe nostalgic gamers wouldn't mind.
The PS4 is expected to arrive at the end of this year. CVG mentions in their article that the console will be announced within a matter of weeks.
Staff Writer at CinemaBlend.
Your Daily Blend of Entertainment News
Thank you for signing up to CinemaBlend. You will receive a verification email shortly.
There was a problem. Please refresh the page and try again.