Splinter Cell: Blacklist Release Date Revealed By Inauguration Trailer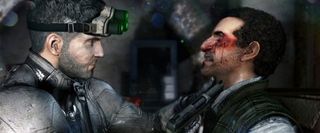 The next installment of the Splinter Cell series won't be out this spring. Ubisoft announced today that they've pushed the launch of Splinter Cell: Blacklist into late summer.
The stealth-action game was previously expected this spring. The new release date for Blacklist is August 20th, according to the latest trailer. Presumably that date only applies to Xbox 360 and PS3, as Ubisoft has a habit of delaying the PC version of their multiplatform titles.
Blacklist is facing a bit more pressure than previous games in the series. It's the first title not to feature Michael Ironside as the voice of Sam Fisher. Instead, he's been replaced by Eric Johnson who will also be performing motion capturing. The new action elements of Blacklist are also causing some friction. A delay to add some additional polish to the title isn't a bad idea.
The new trailer is called "Inauguration." It shows the inauguration footage from various presidents. More importantly, we see the new president, Patricia Caldwell, appointing Sam Fisher - as head of Fourth Echelon, a new covert agency that combats threats throughout the world. Naturally, there's some footage of Fisher roughly handling terrorists as well.
Your Daily Blend of Entertainment News
Staff Writer at CinemaBlend.