Star Wars Battlefront Is Celebrating Star Wars Day In The Best Way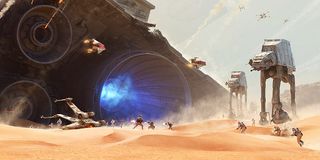 May the fourth is right around the corner, and any Jedi or Sith in the audience know exactly what that means: Star Wars Day. To celebrate, EA is offering some special gaming events and bonuses in Star Wars Battlefront, as well as other games set in a galaxy far, far away.
If you've been interested in Star Wars Battlefront but haven't decided to take the plunge on PC, then you're in luck. On May 4, folks will be able to hop onto Origin, download the game and take advantage of a four-hour free trial of the game. It sounds that you aren't limited to when, during May 4, you can play, so don't fret about whether or not you can be in front of your computer for a specific four-hour block. The only stipulation is that you can begin your run starting no earlier than 11 a.m. PST. Just cram in four hours whenever you can and see what you think about EA's third-person shooter that lets you wield beloved Star Wars weaponry, take on the role of legendary characters like Luke and Darth, as well as pilot beloved vehicles.
It sounds like you'll have access to pretty much everything in the core game, though not any of the DLC. That makes sense, since that would include some additional downloads, I'm guessing. Also, the point of this event is to give you a taste of Battlefront to help you decide if you finally want to purchase the full game.
According to a recent round-up from Gamespot, though, that's not the only bonus EA is offering on Star Wars day. For starters, if you're already playing Battlefront and happen to log in on May 4, you'll net yourself a cool 4,444 in-game credits. Yeah, they're really working that "fourth" aspect into every nook and cranny of this promotion. On that day, you'll also have access to a brand new Hutt Contract that will give you a certain task in order to net some sweet rewards.
If you happen to be playing Star Wars: The Old Republic, you can get your hands on the Knight of the Fallen Empire expansion content at no extra charge. That's actually available right now, so don't hold off on checking it out. Still, EA is promoting it as part of the Star Wars Day event. It's up for grabs through May 30. Also, if you log in by May 4, you'll net yourself a free M4-16 Zakuulan Astromech Droid mini-pet, which is an utterly adorable small version of C-3P0, but painted gold. Finally, play The Old Republic between May 3 and May 10 to earn yourself double experience points and double PvP commendations, as well as double the requisitions in Starfighter mode and double the legendary experience.
Which brings us to the mobile game, Star Wars: Galaxy of Heroes. You can enjoy a 25 percent discount on in-game currency on May 4, so save up your funds if you're planning to drop some real-world dough into the game. Also, between now and May 5, a rotating crop of game modes will offer double rewards on a daily basis, so pay attention to the pre-game updates if you want to maximize your time.
Your Daily Blend of Entertainment News
Staff Writer for CinemaBlend.
Your Daily Blend of Entertainment News
Thank you for signing up to CinemaBlend. You will receive a verification email shortly.
There was a problem. Please refresh the page and try again.