StarCraft 2 Heart Of The Swarm Launches Worldwide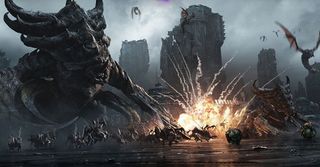 Today Blizzard released Heart of the Swarm, the first of two planned expansion packs for real-time strategy StarCraft 2. The expansion is now available in stores throughout the United States, Canada, Europe, and several other countries through Latin America and Asia.
Heart of the Swarm continues the storyline of StarCraft 2: Wings of Liberty, but this time from the perspective of the Zerg rather than Terrans. Kerrigan regains control of the Zerg Swarm and sets out to kill Arcturus Mengsk. The campaign has an RPG-like progression system, with Kerrigan growing in power after each of the 20 campaign missions. Players will be able to choose her new abilities and also decide how to evolve her minions.
Swarm also brings enhancements to the game's multiplayer. New units will be added such as the Terran Hellbats and Protoss Tempests. Returning units will be tweaked as well. Blizzard is augmenting the online play with several new features, such as clans, Global Play, and a leveling system.
The standard edition of the expansion pack is $39.99 and can be purchased through stores or Blizzard's online shop. There are also two special editions to consider. The $59.99 digital deluxe Heart of the Swarm includes a torrasque skin for Ultralisks, new portraits and decals for multiplayer, a Baneling pet for World of Warcraft and Blade Wings for Diablo 3. The $79.99 collector's edition contains everything in the digital deluxe package, along with a behind-the-scenes DVD/Blu-ray, soundtrack CD, art book, and Zerg Rush mousepad.
Blizzard is planning to follow Heart of the Swarm with a second expansion pack, Legacy of the Void. Void will center on Zeratul and the remnants of the Protoss. This expansion is currently undated. It could take awhile, though, considering that the Swarm took over two-and-a-half years to arrive.
Your Daily Blend of Entertainment News
Staff Writer at CinemaBlend.