This Super Mario Cake Looks Absolutely Delicious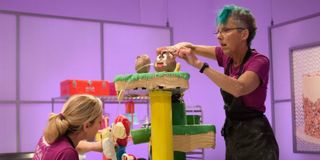 Have you ever created something so awesome-looking you just couldn't bear to use it, or in some cases, eat it? If you had crafted this amazing Super Mario Bros. cake like Cory Pohlman of Bohnhoff & Kent Bakery, you might be feeling that way right about now.
This spectacular cake (via GameSpot) was created as part of a challenge on Food Network's Cake Wars series, where bakers were challenged to create their own cake inspired by a level from the original Super Mario Bros. This was all in a bid to promote the upcoming Super Mario Maker, headed to shelves September 11th, where players can create and play through their own Mario levels across several different game themes, for a broad range of creative 2D levels.
The winning cake was the work of the previously mentioned Cory Pohlman, and includes Mario mainstays like Goombas, Mario, Luigi, Peach, Bowser's beastly hand, and even Piranha Plants.
It wasn't just a looker, though. It was totally edible, as you'd expect, a moist and decadent with a red velvet interior that inspired judges to call it the winner. It won brownie points (or would that be cake points?) from Krista Yang, Nintendo representative, who was thrilled with the design, noting that it had a lot of "dimension and excitement." Personally I'm not seeing a whole lot of that, but I do see some delicious baked goodness in front of me that's just begging for me to dive right into it and eat every single bit of it.
Pohlman took home a whopping $10,000 for her creation, and bragging rights, of course, though the other two cakes were aesthetically pleasing as well. It took the entire package to take home the hefty amount of prize money, however, even though all the Mario cakes were serious contenders.
You can watch the episode here at Food Network's official site if you've got a valid cable subscription to log in with, and see the entire competition for yourself. In the meantime, get geared up for Super Mario Maker, and start thinking of ways that you can create your own devious levels.
Your Daily Blend of Entertainment News
Thank you for signing up to CinemaBlend. You will receive a verification email shortly.
There was a problem. Please refresh the page and try again.