E3 2014: Mario Maker Coming To Wii U In 2015, Lets You Create Your Own Levels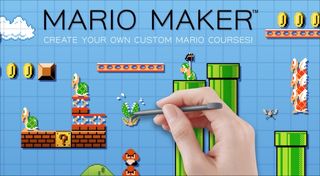 One of the things gamers have been begging Nintendo for is a game that lets you create your very own levels for Mario; more specifically, a game that lets you create levels and share them with friends. Well, 2014 is the year that Nintendo completely turned around their luck on a great many things, and producing an answer to the query about gamers wanting a Mario Maker was one of those things (as well as hosting one of the most badass tournament invitationals in the history of the FGC).
During Nintendo's E3 direct digital conference the company unveiled a brand new game called Mario Maker. The game lets you create your very own levels and share them with friends.
The game comes with a very intuitive level editor that allows users to easily and conveniently put together levels of varying difficulty by using the Wii U's GamePad.
The level creator looks a lot like something from a 3DS game, and relies on a virtual stylus that allows users to pick enemies, obstacles and other objects from the Mario universe to build all sorts of crazy, cool, simple, complex and challenging levels for yourself or your friends.
The game has some pretty neat ways to help builders play-test their levels effectively, with Mario sprite-ghosts that trail the last position(s) of the character after a stage ends. This enables creators to fine-tune where to put platforms and enemies for maximum precision to elicit enjoyment and a feeling of victorious conquest.
One of the things that I thought was absolutely brilliant was the ability to switch the game's aesthetic on the fly. You can go from looking at 8-bit Mario from the NES or the New Super Mario Bros. that appeared on the Wii. The game still stays as a side-scroller, but if you prefer your games looking all nice and smooth in 3D you have that option right off the bat.
Mario Maker may not be a massive seller with the hardcore crowd but it's perfectly placed to release for the Wii U in the early first-half of 2015 to fill in the gap between spring and E3. That's a pretty slick release window as I can imagine tons of kids wanting to get their hands on Mario Maker to create all sorts of wacky and cool levels.
I could easily see Mario Maker moving millions of SKUs if Nintendo gives it some proper promotion and the right amount of exposure. Right now they're in that very tenuous position where marketing momentum and timely releases are 200% key to staying relevant in the eighth-gen console race.
Even though you'll have to wait a while to get your hands on the new title, you can still learn more about Mario Maker by paying a visit to Nintendo's official E3 website.
Your Daily Blend of Entertainment News
Staff Writer at CinemaBlend.