Sword Coast Legends Is Getting Tons Of Free DLC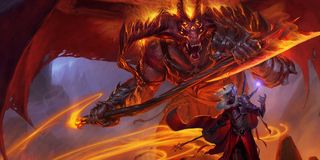 Sword Coast Legends developer n-Space has acknowledged that the reviews for their Dungeons & Dragon RPG have been mixed. However, they have some ambitious plans to improve the game and also add new content.
n-Space president Dan Tudge, who outlined the content updates in a letter to players, said that the team has been listening closely to their feedback since the game's launch:
The first of these free updates, "The Pumpkin Patch," is now live. This update introduces some Halloween-themed content and several tweaks:
New "Liars' Night" themed area and placeables in the spirit of Halloween
Cemetery DM location with over 35 new placeable objects and new player gear
Screen nudge with mouse (toggled option)
Players will now be able to move the camera by nudging the edges of the screen. The WASD keys and the middle mouse button will still work the way they currently do.
Auto-heal at Adventurer's Camp
DM collect quests will display "x of x found" on the HUD
Hotkey added to re-center camera on player
Doubled the max length for DM quest conversation text
Added the option to lock your cursor to the window
Bug fixes
n-Space will then follow up on this update with Community Pack 1, dropping on November 9th. Community Pack 1 allows players to use the skill trees previously restricted to companions. Players can also reset their characters and choose new builds. If they want to hang onto additional items, they can store them in a new stash. Dungeon Masters will also have a new outdoor area to utilize with 150 new placeable objects. They'll also have a larger amount of abilities to choose for custom monsters.
Community Pack 2, schedule for November 30th, unlocks drow elves as a playable race. Dungeon Masters, meanwhile, will be able to place visual effects like fire and smoke and create villages. Other significant changes include an end to ninja looting in multiplayer along with new difficulty options. The developer could include additional changes as well if time permits.
n-Space will then introduce official mod support for the game in December. This is arguably the most important update of the game, because the limited map editing was one of the biggest gripes among gamers. Builders will be able to edit levels tile-by-tile and also craft branching dialogues. They can also customize the loot table, the length of rounds and other properties of their adventures.
The developers are also working on a new adventure as well called "Rage of Demons." This storyline will feature the famed drow ranger Drizzt Do'Urden along with a host of new enemies. "Rage" also unlocks tieflings as a playable race along with a yet-to-be-named character class that will be decided by the community. Dungeon Masters will be able to use the new tiles, objects and creatures from the storyline in their own creations. This update, whenever it arrives, also allows players to control their characters directly with the WASD keys and use custom characters as companions for the story mode.
Sword Coast Legends is now available for PC, Mac and Linux. The developers said that they're planning Xbox One and PS4 versions as well.
Staff Writer at CinemaBlend.
Your Daily Blend of Entertainment News
Thank you for signing up to CinemaBlend. You will receive a verification email shortly.
There was a problem. Please refresh the page and try again.