Dragon Age: Origins Director Is Making A Dungeons And Dragons RPG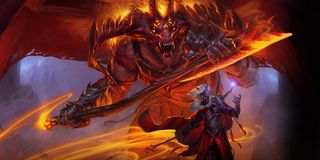 A new Dungeons & Dragons RPG is coming to the PC. The game, called Sword Coast Legends, is helmed by Dragon Age: Origins director Dan Tudge.
Sword Coast Legends is styled after previous D&D RPGs like Baldur's Gate and Icewind Dale. Players control a party of adventurers journeying through the Forgotten Realms. The combat plays out in real time, with optional pausing so players can survey the battlefield and queue up commands for their party members.
Legends' mechanics are based on the Fifth Edition ruleset of Dungeons & Dragons. Players can choose from six character classes and five races, though they weren't specifically announced today.
The game isn't strictly single-player. You can also join up with up to three players in your adventures. There's even a DM mode in which one player becomes Dungeon Master and lords over players in customizable adventures. In addition to building the experience in advance with a toolset, the Dungeon Master can make real-time changes during the game session to help or hinder the party.
Games like Divinity: Original Sin and Wasteland 2 have proved that there's a market for old-school isometric RPGs. I'm glad to see that Wizards of the Coast was willing to let n-Space and Warframe studio Digital Extremes craft a game in that vein using the D&D license.
Unlike those other PC RPGs, though, Sword Coast Legends isn't being funded through Kickstarter. Legends is said to be coming later in 2015. You can already pre-order the game through the official website. There's a $34.99 digital edition on sale, along with these special bundles:
Digital Deluxe Pre-Order Pack ($59.99)
1 Steam Game Key
Tome of knowledge (giving players a boost to their attributes and abilities)
Order of the Burning Cloak Armor and Weapons
Beholder monster for Dungeon Masters
Lost Mines dungeon tile set for Dungeon Masters
Specials Wisps for Dungeon Master cursors
Exclusive Hero forum badge
Exclusive Dungeon Master forum badge
Digital soundtrack of Sword Coast Legends – Distributed via Steam once Game is Released
Limited Edition Collector's Pre-Order Pack ($239.99)
Everything in the Digital Deluxe Pre-Order Pack
Belaphoss forum Badge
Design Council Access – Help Devs Make Decisions that shape SCL
Cloth Map of the Sword Coast - Shipped to you closer to launch window
Statue of Belaphoss - Shipped to you closer to launch window
"Campaign Packs" of those two special editions are also available that come with five game keys at a discounted rate.
Image 1 of 2
Your Daily Blend of Entertainment News
Staff Writer at CinemaBlend.
Your Daily Blend of Entertainment News
Thank you for signing up to CinemaBlend. You will receive a verification email shortly.
There was a problem. Please refresh the page and try again.