Team Fortress 2 Now Free-To-Play, Meet The Medic Video Released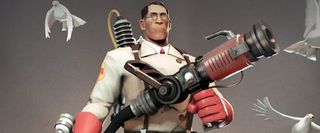 Valve wasn't kidding around when they said they wanted to enter the free-to-play market. Starting today, you can play their class-based shooter Team Fortress 2 for no charge on the PC and Mac.
If you download TF2 starting today, you'll have access to all the features you would've earlier had to pay for. The game will support itself via microtransactions, with an in-game Mann Co. Store selling premium items. I guess you could call that "the catch" but the store's been there for months so it's not like they're springing anything on you.
Valve also released the "Über Update" today. It's said to be the biggest content pack they've created since the shooter's 2007 launch. The update includes a new Payload map as well as items for many of the game's classes. Full details can be found at TeamFortress.com.
Rounding out the day's barrage of TF2 news is the release of a new animated short. This one introduces us to the Medic.
Staff Writer at CinemaBlend.
Your Daily Blend of Entertainment News
Thank you for signing up to CinemaBlend. You will receive a verification email shortly.
There was a problem. Please refresh the page and try again.