Team Ninja Not Adding DLC Fighters To Dead Or Alive 5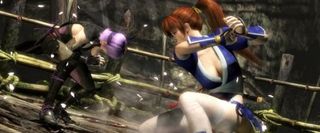 A lot of gamers have been up in arms over downloadable content well before the Capcom fiasco. Of course, after the Capcom disc-locked content fiasco things just escalated, and now other developers are chiming in on what they won't be doing with their fighting games. Score one win for gamers.
VideoGamer managed to interview Team Ninja head honcho Yosuke Hayashi and of course, when it comes to fighting games, all the talk right now centers around downloadable fighters all because of Capcom's disc-locked content. Regarding downloadable pugilists, Hayashi says...
Awesome.
Back in April, Tekken Tag Tournament 2 producer Katsuhiro Harada also mentioned the same thing in an interview with 360Magazine. Speaking about having essential fighter characters as downloadable content, Harada basically stated that...
I'm not really sure if Yoshinori Ono, the producer for Street Fighter X Tekken felt the same way or not. Given the working conditions of the rosy-cheeked producer, it didn't sound like he had much say-so in how the DLC would be distributed, based on his interview with Eurogamer where he bemoaned Capcom's arduous working conditions.
As for Dead or Alive 5, fans of the series will at least be pleased to know that all their bouncy-breasted pugilists will be included in the game and not locked away behind a pay-wall. If anything, at least this Capcom DLC disaster has other studios following the example of how not to treat their loyal fanbase.
You can learn more about the fighter over at the Official Website.
Your Daily Blend of Entertainment News
Staff Writer at CinemaBlend.
Your Daily Blend of Entertainment News
Thank you for signing up to CinemaBlend. You will receive a verification email shortly.
There was a problem. Please refresh the page and try again.