Theatrhythm: Final Fantasy Curtain Call Tunes Up For Romancing Saga DLC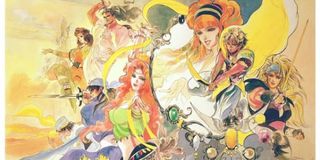 While Square Enix has announced interest in possibly carrying over the Theatrhythm franchise to other series, Final Fantasy Curtain Call offers a brief taste of what that might look (or sound) like with its latest batch of DLC featuring tunes from another popular RPG series, Romancing Saga.
While tackling Super Smash Bros. for the 3DS over the weekend, I found myself unable to completely ignore the siren call of Theatrhythm: Final Fantasy Curtain Call. Returning to the rhythm-based game featuring the long-running Square Enix RPG series, I noticed the little DLC tab at the bottom of the intro screen was lit up, so I decided to give it a gander.
Amidst a new playable character and several new songs from various Final Fantasy properties, I also discovered a handful of songs from the Romancing Saga series. Downloading them and booting them up, I was delighted to discover that they also boasted their own stages and enemies, which were now being invaded by my musically combative FF posse. These songs were available under a Square Enix Games tab alongside the rest of Curtain Call's impressive library, which is a good sign that additional cross-over songs are coming down the pipeline.
It turns out that this process could have been expedited had I only checked my inbox, where a press release from Square Enix concerning Theatrhythm DLC plans were outlined. Along with four songs pulled from Romancing Saga, Romancing Saga 2 and Romancing Saga 3, it looks like Curtain Call will serve as a refuge for other games featuring strong soundtracks in the Square Enix library.
Current DLC can be found within the game menu, boasting an additional 16 songs and a trio of additional characters to add to your roster. Each tune and character will set you back a buck a pop. For those who are worried that having so many DLC offerings this close to launch means that the game's initial content is lackluster, don't even fret. Theatrhythm includes more than 200 songs in the game proper, so you'll be playing for quite some time, whether or not you feel like forking over some additional cash for the bonus tunes.
Finally, Square Enix announced what DLC players can expect out of the next update, which is due in North America this Thursday, Oct. 9. While nothing here is from outside properties, fans of Final Fantasy will likely find something to get excited about. Along with the Orlandeau character from Final Fantasy Tactics, here are the newest songs slated to join the Curtain Call lineup. Maybe we'll even see some FFXV songs, when that game finally releases!
-"Advent: One-Winged Angel" from FFVII: Advent Children
-"Last Order" from Last Order: Final Fantasy VII
-"Another Moon" from Final Fantasy IV
-"Iifa, the Ancient" from Final Fantasy IX
-"The Bevelle Underground" from Final Fantasy X-2
-"Locke's Theme" from FF VI
-"Leviathan Battle" from FF Fables, Chocobo's Dungeon
-"The Imperial Army" from FFII
-"Today Comes to be Tomorrow" from FF Chrystal Chronicles
Your Daily Blend of Entertainment News
Staff Writer for CinemaBlend.