Will There Be Another Borderlands Game? This Is What The Developer Says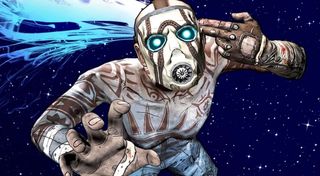 Gamers have been asking and clamoring for a new Borderlands for quite some time. The audience was left a little lukewarm on Borderlands: The Pre-Sequel, but they're looking forward to another canonical, sequential entry in the shooter series... and Gearbox has confirmed that they're working on one.
Game Informer did a brief write-up on a PAX East 2016 panel discussion that took place at the event being held this weekend in Boston, Massachusetts. During the panel, Gearbox CEO Randy Pitchford stated that "It's no secret. Obviously there is going to be another Borderlands," and when team members began chiming in about the pre-production work they've been doing on it, labeling the project as Borderlands 3, Pitchford was quick to chide them away from any official numerical values, stating, "We don't even know if we're going to call it that."
It's possible it could be labeled in a similar way to Borderlands: The Pre-Sequel, which took place in between Borderlands 1 and Borderlands 2, hence the reason why its a prequel to the second game and a sequel to the first.
Nevertheless, it was revealed that the next game in the Borderlands series would have Battleborn's art director, Scott Kester, heading up the art department, while the original Borderlands writer Mikey Neumann would be returning to the helm to pen the next game in the series, taking over where Anthony Burch left off with the Pre-Sequel. Gearbox were also hiring a while back and staffing up for the new Borderlands title while they were working on Battleborn.
Details about the new game are practically nil, though. We have no idea if they'll be bringing back their gun matrix or altering the art-style or bringing in a cast of new characters. One thing is for sure, the landscape has definitely changed since 2009. Back then it was one of the first titles to include the kind of gun-matrix that it did, randomly generating weapons based around a select few gun manufacturers. They improved on this in the second game and the Pre-Sequel, refining the matrix while expanding the amount of variety.
Since 2009, we've had various other developers putting together games where customization and weapon generation have come up to or rivaled what you get in Borderlands, such as Battlestate Games' upcoming Escape From Tarkov, which uses a similar mechanic but with real-life guns.
It definitely makes you wonder exactly what kind of route Gearbox Software would take with a new Borderlands title. Would they increase the amount of creative weapon designs and customization? Would they finally add weapon crafting to the series? Is it possible that they would focus more on exploration and enemy generation? Would they finally make the game open-world? Could we see improvements and customization features added to the vehicles? Would Gearbox venture into making the game where players could venture to multiple planets with different biomes? The possibilities are almost endless.
For now, though, Gearbox is focusing on getting Battleborn up and out the door come May 3rd for the Xbox One, PS4 and PC. Don't expect to hear anything about a new Borderlands title until later into the year.
Your Daily Blend of Entertainment News
Staff Writer at CinemaBlend.