Titanfall 2 Will Have A Campaign Mode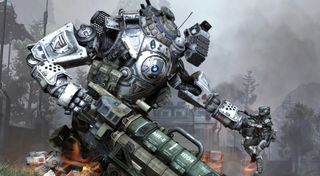 Details on Titanfall 2's campaign mode have been revealed and this comes with the news that they're also developing a TV series around the game. The campaign mode will be "gritty" and "dirty" and "human" and it will help flesh out the world around the game's lore, science and a little bit of the magic that makes it all tick.
IGN picked up the news from an interview that Forbes conducted with television writer Jesse Stern. He's been working back and forth on games and TV projects, and is currently attempting to write a television series for Titanfall 2 that Lionsgate is supposed to pick up. However, costs will likely keep the project grounded unless they can find a way to bring the budget down.
The TV series would be based around the campaign mode that they're focusing on in Titanfall 2, something that was sorely absent and greatly missed in the original game. According to Stern, it's going to be a "gritty" experience, telling Forbes...
It will be somewhat of a sci-fi retelling of both the American Civil War and the American Revolutionary War in the late 18th century.
The campaign will center on how the settlements came to be on some of the foreign, alien planets that humans visit and how the technology they utilized to make those settlements eventually turned into machines of war.
Already it sounds very compelling both from a television series perspective and as a video game. In fact, the original Titanfall was brimming with potential and you could practically see the lore dripping out of the digital crevices and virtual bolts that held the war-torn Titans together. The game's visuals easily told a story that the game itself was not telling.
Players were engrossed because of what Respawn Entertainment was able to put together with Titanfall, but at the same time the multiplayer-only approach left a lot of single-player enthusiasts out in the cold. Despite the limited appeal due to being multiplayer only, the mech-based, sci-fi shooter still managed to rack up a very sizable player-base, accruing 10 million in sales across the Xbox 360, Xbox One and PC.
Many analysts and some arm-chair mercenary data enthusiasts believe that Titanfall could be the Call of Duty killer. With Electronic Arts at the publishing helm it's not impossible, given that they've been chasing Activision's Call of Duty sales for years. With a proper campaign, a tightened up multiplayer mode, and the fact that it will be a multi-platform game on the PC, PS4 and Xbox One, it's totally possible that Titanfall 2 could manage to hit Call of Duty's sales right out of the gate with a proper marketing campaign.
That's also not to mention that Respawn Entertainment is composed of a lot of the same bright minds who put together the first two Call of Duty: Modern Warfare entries. So it's very possible they could nail the formula once again with Titanfall 2.
There is no release date on the game but it's expected to arrive within fiscal 2017, which ends on March 31 of 2017. The last game was also released in March back in 2014, so it wouldn't surprise me if EA targets that March sweet spot for the game's release come next year.
Staff Writer at CinemaBlend.
Your Daily Blend of Entertainment News
Thank you for signing up to CinemaBlend. You will receive a verification email shortly.
There was a problem. Please refresh the page and try again.