Titanfall Was Exclusive To Xbox Because EA Thought Xbox One Would Dominate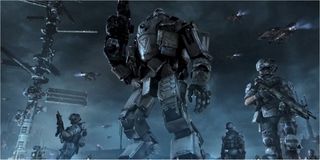 Console exclusivity is a funny thing. Sometimes exclusivity is due to hardware limitations for the developer; maybe they couldn't get a certain thing working right with a specific console, so they limited the outing to the console that provides them the most leeway in their design scope. Sometimes exclusivity is based on budget; some developers or studios or publishers don't have the funds to port the game to every console. And sometimes, a game is exclusive to a brand because the publisher thinks it will sell more.
In the case of Titanfall, Electronic Arts thought that the game should be exclusive to the Xbox consoles (and PC) based on their forecasts of where they thought the Xbox One would be come March.
Gamezone (opens in new tab) managed to get in a word with EA's Chief Financial Officer Blake Jorgensen, who stated that...
Jorgensen is talking about how the Xbox 360 appeared to have more momentum than the PS3 throughout the seventh gen, and it seemed like the Xbox One would follow suit. He's also talking about EA's forecast that put cumulative sales at 10 million between the Xbox One and PS4 sales... a measure that they think can be reached by March of this year.
The thing is, EA was heavily in bed with Microsoft for the Xbox One... not just cuddling and spooning, but they were getting it on thick like Kim Kardashian and Ray-J in that nasty sex tape... just the way EA likes it.
It was EA who first announced cancellation of the Online Pass program, after they announced exclusive deals with Microsoft during the Xbox One's May 21st reveal. The reason for the cancellation of the Online Pass was because – at the time, before all the Fast & Furious 180s – Microsoft had a used game fee in place for publishers to utilize.
In theory, this would have given Electronic Arts some massive leverage in terms of revenue from a game like Titanfall because any copy being put back into the wild would still net EA a small chunk of change from the used game fee(s). Designing the game around that kind of culture for the Xbox One probably looked like a gold mine for EA and Titanfall would have been the testbed for mining the gold.
Things didn't quite work out like that.
Jorgensen talks a bit about the trade-offs of expenses, R&D and excluding the PlayStation brands from Titanfall's launch plate. It all basically amounts to: We're in damage control mode and Titanfall better sell big.
By the time March gets here I'm willing to bet that the PlayStation 4 will be around 5.2 or 5.4 million SKUs installed in homes. I'm thinking the Xbox One may trail behind at 4.4 or 4.7, given that Microsoft is still dealing with stock issues, as a bunch of big green boxes are knitting sweaters on store shelves out of the dust they're collecting.
Staff Writer at CinemaBlend.
Your Daily Blend of Entertainment News
Thank you for signing up to CinemaBlend. You will receive a verification email shortly.
There was a problem. Please refresh the page and try again.