Top 5 Gaming Computers To Buy For Christmas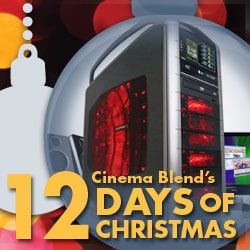 Blend Games is always looking out for gamers and their need to game-on with style and efficiency. So being that the holiday season is in full-swing, and Christmas is right around the corner, we decided to offer gamers a list of gaming computers worth purchasing before the jolliest time of the year is past and gone.
Anyone who knows anything about PC gaming knows that gaming rigs need constant pampering and updating to play the latest and greatest games. However, given the recent popularity of quad-core processing, gamers no longer have to rely on updating their computer every two years. In fact, here at Blend Games we have compiled a list of five computers that are absolutely perfect for all your computer holiday needs, as part of the Cinema Blend's 12 Days of Christmas. Whether you're purchasing Mirror's Edge, Far Cry 2 or Grand Theft Auto IV, the computers on this list will give all the bang for your buck. So without further ado, here's our Top 5 Gaming Computers To Buy For Christmas.
No. 5: CyberPower Gamer Infinity 8800 Pro SE
There's no such thing as computer gaming if a CyberPower computer wasn't on this list. While it may be ranked in the number '5' spot on this list, it certainly doesn't mean that it's a push-over PC. Featuring the new transparent side-panel casing, and 680 watts in its power supplies, the CyperPower Gamer Infinity 8800 Pro SE is a towering shell of electronic muscle. Powered by the new Intel Core 2 i7-940 2.93 GHz processor, and running on 3GB of triple channel memory, the GI 8800 Pro SE carries the basics to power up any of the latest games without a hitch. It can also muster up HD graphics with ease, given its NVIDIA GeForce GTX260 896MB dual video cards, and 1TB SATA II hard drive. DVD and CD read and re-writable capabilities are also present, and the price, while hefty, is suitable enough to fit the needs of a hardcore gamer looking to take their hardware needs to the next level.
No. 4: Cybertron Holiday Special III
Two Cybtertron PCs on one list might seem a bit much, but this particular PC could not be passed up. The Cybertron Holiday Special III is the epitome of a stylish power-pc at an affordable price. This rig contains an Intel E8400 Dual-core 3ghz CPU, 4GB of Ram and an ATI Radeon HD3850 512mb Video Card. The HSIII amps up the need of storage capacity with a 500GB hard drive, with the option of upgrading with two extra storage units. That's a heck of a lot of extra storage space. Not that I can imagine someone actually filling it up. Anyway, the HSIII features a dual-layer DVD, CD-R/RW drive, the snazzy Apevia X-SniperG Mid-Tower 420W chassis, a Logitech optical gaming mouse (sweet) and top-of-the-line 600Watts PMPO Subwoofer Stereo Speakers. For its very reasonable price, you're definitely getting some hardcore equipment for some hardcore gaming.
No. 3: CybertronPC X-Cruiser Q6700
Looking like it came out of a freaking sci-fi movie (and not from the SCI-FI channel, because their movies are just cheap and ugly), the CybertronPC X-Cruiser Q6700 is the ultimate mixture of under-the-hood power and show-off-to-your-friends cool. The distinctive color schemes and blazingly fashionable chassis makes this an easy mark for the number '3' spot on our list. Personally, this thing looks so awesome I was almost willing to push it up a space for that feature alone. However, the X-Cruiser Q6700 has enough gusto under the hood to more than make up for its eye-catching guise. Running on the Intel Core 2 Quad Q6700 and maintaining more than 4GB DDR2 RAM, this power-PC sets a high bar for the basics. Dual 500GB SATA II hard-drives, a 1066MHz front side bus, dual-layer DVD+RW drives, a built-in gigabit network LAN and HD audio makes this an easy must-have on this list.
No. 2: WidowPC WGMI-4X5800 Gaming Desktop PC
You almost just don't get any better than what Widow has to offer with the WGMI-4X5800. This bad-boy is so big and so bad, that you probably won't be able to purchase this mean machine without a ten-year payment plan. This is more like a gaming PC combined with a power-station. Running on the new Intel Quad-Core i7 Processor, and powered by triple-channel DDR3 memory, this thing has enough processing power to send you to the moon and back before you can blink. Added to an already star-studded line-up of hardware technology, the WidowPC WGMI-4X5800 runs on the new PhysX physics-card, for dynamic software physics processing with a NVIDIA Geforce GPU. More than 6GB of RAM, a 1.5TB SATA-II hard drive and Direct-X 10 support means that this mega-rig will run your games better than cutting butter with a boiling butter-knife.
No. 1: Alienware ALX X-58 (opens in new tab) (opens in new tab)
This mean machine has no equal in the world of gaming. Featuring the new Intel Core i7 940 and the Intel Core i7 Extreme, the ALX X-58 is a powerhouse waiting to make the latest game bow down before it the way Tony Blair would kneel like a puppy dog before George W. Bush. Powered by dual 2GB ATI Radeon cards, and housing up to 12GB of RAM, this PC is literally almost powerful enough to be considered alien. Add-on the the fact that it features the latest Blu-Ray player and Blu-Ray burner (say hello to pirated PS3 games), a state-of-the-art Dolby Digital 7.1 Surround Sound System, and one of the coolest looking hard-case designs to hit the market, and the Alienware ALX X-58 stands in a league all its own. But let's not forget about gaming online. All your online gaming needs will run smoother than a hand over a bikini-waxed bottom with the ALX's dual integrated gigabit ethernet and hi-speed USB ports for support of the latest in head-set technology. Heck, you'll be heading into 2010 and still bragging to your friends about the ALX X-58's performance capabilities. This is definitely the computer that deserves to top this list, and easily the most efficient for anything gaming.
For more Christmas gaming ideas and news, be sure to stay tuned in with Blend Games and remember to check out Cinema Blend's 12 Days of Christmas Event for more holiday features and entertainment.
Image 1 of 5