Total War: Attila Release Date And Special Edition Revealed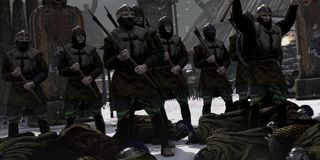 PC strategy game Total War: Attila will be launching worldwide in February, Sega announced today. Gamers can pre-order one of two editions of Attila and get some special bonuses in the process.
Total War: Attila will launch on February 17th in all territories. The game's now available for pre-order through the Sega Store, Steam and other shops.
Anyone who pre-orders from "participating retailers" will get the Vikings Forefathers Culture Pack for free. This DLC, the game's first, unlocks three Norse factions: The Danes, The Geats and the Jutes.
"These warlike Norse factions have their own unique land and naval units, missions, cultural and factional traits, and are poised to launch southwards from their icy homelands on campaigns of raiding, looting and conquest," Sega says.
Players who don't pre-order will have to buy the Vikings Forefather Culture Pack separately. It'll cost £5.99/€7.49/$7.99 and be available on day one.
North American gamers who buy a physical copy of the game can opt for a Special Edition. Sega didn't announce a price for this bundle yet but say it will contain the following extras:
Attila The Hun Biography - Written by Nic Fields and published by renowned military history specialists Osprey Publishing, this brand-new Attila The Hun Biography is based on the latest academic research and theories. Beautifully illustrated with maps, archaeological photographs and specially commissioned artwork, it details the life, times and dark deeds of one of history's most infamous warlords. This biography is only currently available as part of the Total War: Attila Special Edition.
Reference Guide Poster - This double-sided poster features original Total War: Attila campaign map artwork on one side, and a comprehensive playable faction reference guide on the other.
Viking Forefathers Culture Pack - Whether pre-ordered or purchased at launch, the Total War: Attila Special Edition includes this significant pack of content featuring three additional playable Norse factions.
Total War: Attila takes place a few centuries after the end of Rome 2. The overstretched Roman Empire's power is in decline. They're beset by many enemies, including the king Attila from Asia. Players can take on the role of the remnants of the Empire or the various factions trying to carve their own kingdom from its remains. Players can expect new technologies and units along with the return of older features like family trees and skill trees.
Image 1 of 6
Your Daily Blend of Entertainment News
Staff Writer at CinemaBlend.