Tritton Kunai Headsets Arrive For Nintendo 3DS, Wii U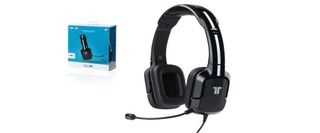 Oftentimes when we report on brand new gaming peripherals it's limited to PCs, Macs, Xbox 360s and PS3s. Well, today Mad Catz Interactive announced that a brand new stereo headset has arrived for Nintendo's gaming platforms called the Tritton Kunai.
According to Darren Richardson, the President and Chief Executive Officer of Mad Catz Interactive commented in the press release saying...
The cool part is that the Wii U is at least getting some cool peripherals right out of the launch gate. The bad part is that the Kunai headset is only stereo. If you were here to see my face it would look like this -_-
Stereo was cool and all...back in 1985.
I guess Mad Catz just wanted to throw something out there to cash in on the Wii U craze that will inevitably follow the console's release this weekend. But goodness, the least they could have done was launched something with surround sound capabilities and quad drivers...at the least.
On the upside, the Tritton Kunai comes with a microphone and cross-compatibility with the Nintendo 3DS, so there's that. Also, the headset is extremely cheap, clocking in at the meager $49.99 price tag. Pretty economic, eh?
You can learn more about the Tritton Kunai or place an order over at the Official Website.
Staff Writer at CinemaBlend.
Your Daily Blend of Entertainment News
Thank you for signing up to CinemaBlend. You will receive a verification email shortly.
There was a problem. Please refresh the page and try again.