Two Sword Art Online Games Coming To PS4 This Year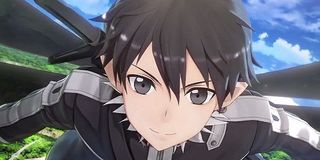 It looks like Sword Art Online fans have a dual-wielded dose of good news to get excited about this morning as Bandai Namco announces that, not only will upcoming Sword Art Online: Lost Song be arriving in North America for the PlayStation Vita, but that latest game in the series will be joined by an enhanced version of Sword Art Online Re: Hollow Fragment on the PlayStation 4, too.
One of the biggest anime to arrive in the past few years, the first season of Sword Art Online revolves around a group of MMORPG players who are trying out a new game that literally links into your nervous system to drop you into an almost real virtual world. The problem is that the game is being run by a madman who has managed to lock everyone into the game where, if you die, your physical body will suffer the same fate. The only way out is to fight, with everyone tasked to clear a tower of monsters and bosses to earn their freedom.
Last year, the first video game based on the popular series to come to North America, Sword Art Online: Hollow Fragment, made its way Stateside as a download-only title for the PlayStation Vita. The game attempts to give you the feel of playing an MMO while, for the most part, keeping you locked into a single player experience. It actually pulls off that feat pretty nicely, offering loads of content, questing, looting and upgrading, but with the same repetitive loops you'd expect out of, say, World of Warcraft or Final Fantasy XIV.
Unlike traditional MMO's, that kind of grind got stale more quickly in a single player setting, which wasn't the game's only flaw. The translation was also shaky at best, and the (totally skippable) romance mini-game was impenetrable without using a guide.
Despite its flaws, though, I had a lot of fun revisiting the world of SAO and pulverizing monsters. The combat system was pretty unique and actually boasted some fantastic animations, which kept me coming back for more.
Later this summer, Bandai Namco has announced that Sword Art Online Re: Hollow Fragment will be made available for a whole new audience as a digital title on the PlayStation 4, shortly followed by its sequel, Lost Song, which will arrive at retail for the PS4 and Vita later this fall.
Lost Song will take players to the decidedly less deadly ALfheim Online to face similar challenges, only with a setting based on Norse mythology and the ability to fly and gain familiars.
I'm especially happy to hear that Lost Song will be getting a retail release, as the original game boasted a hefty file size and, even at 32 gigs, my Vita memory card is basically topped off.
Staff Writer for CinemaBlend.
Your Daily Blend of Entertainment News
Thank you for signing up to CinemaBlend. You will receive a verification email shortly.
There was a problem. Please refresh the page and try again.