UFC Undisputed 3 Roster Trailer Packs A Punch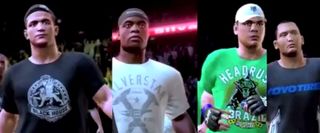 Featuring a massive roster of over 150 different fighters in 7 explosive weight classes, UFC Undisputed 3 will be one of the largest MMA fighting games ever released, and you can get a glimpse at it all with the new roster trailer.
I think THQ and Yukes have really carved themselves out a nice niche with both the fighting and wrestling crowd with the WWE and UFC games. I know some people complain about the annual WWE titles but I for one really enjoy them and they're a ton of fun. If THQ takes the same approach with Undisputed and can find that sweet balance between annual innovation and gameplay balance then I think it might do them well, especially with updated rosters, legends and additional fighting styles.
Whether you're a fan of American MMA or you just want a really solid fighting game, it looks like you can't go wrong with UFC Undisputed 3....the animations look as smooth as ever and the fighting atmosphere presented with top notch quality. EA is going to have their hands full trying to outdo this one with their EA Sports MMA franchise.
You can look for UFC Undisputed 3 to land on store shelves for the Xbox 360 and PS3 beginning February 14th. For further info on the game or the chance to pre-order, feel free to pay a visit to the Official Website.
Staff Writer at CinemaBlend.
Your Daily Blend of Entertainment News
Thank you for signing up to CinemaBlend. You will receive a verification email shortly.
There was a problem. Please refresh the page and try again.