Uncharted 3 Single-Player Now Free To Download On PS3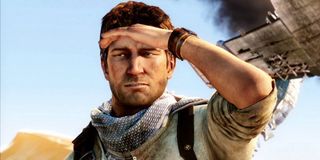 Update: It looks like Sony's yanked the PlayStation Store listing. I guess someone jumped the gun? Maybe the freebie will resurface during E3.
Original article: If you want to play Nathan Drake's latest PS3 adventure, you can do so for free. The single-player component of Uncharted 3: Drake's Deception can now be downloaded through PS3 for no charge.
In Uncharted 3, Drake is searching for the lost city the Iram of the Pillars. His action-packed journey will take him to far-flung locations like Syria, Colombia and France. This dangerous treasure hunts will challenge your shooting, puzzle-solving and platforming skills. The free download lets you play through the entire 9+ hour campaign without restrictions. You don't even need a PlayStation Plus subscription.
Naughty Dog previously released the multiplayer as a free download. You can dive into the competitive multiplayer modes and advance up to level 15. Once you've hit level 15, you'll stop unlocking new items and abilities but you can keep playing to your heart's content. The co-op adventure mode, additional maps, and higher ranks are optional purchases.
In other words, you can now play the bulk of Uncharted 3 without paying a dime. Sure, the extra parts of the multiplayer cost extra money but the campaign's really the reason to play the game. You could still potentially get hours and hours of entertainment out of the online mode even without paying too.
If you own a PS3 and haven't played Uncharted 3 yet, I'd recommend picking it up even if you had to buy it. Now that it's free, you've run out of excuses. Uncharted 3's one of the best PS3 exclusives around. Some people will slam it by saying it's not as good as Uncharted 2 but how many games really are, though?
The only "catch" here is that you need enough hard drive space to fit the game. You'll need a whopping 40GB to download the single-player. You have to have the free-to-play multiplayer installed as well, which adds another 4.6 GB to the size. The single-player 3D movies, Spanish language pack, French language pack, and Brazilian language pack are thankfully optional downloads but could take up even more space if you want/need them.
The goal of the freebie is to presumably drum up hype for the series in advance of Uncharted 4's release. Granted, Uncharted 4 isn't even dated yet but there's a chance that Sony will announce at E3 2014 that the game's coming this fall. That's a distinct possibility, considering it's been in development since 2011.
There is a possibility, though, that Uncharted 3's single-player won't be free forever, though. If you're interested in playing it and you've cleared out enough space on your PS3's HDD, you should grab it as soon as you can.
This poll is no longer available.
Your Daily Blend of Entertainment News
Staff Writer at CinemaBlend.